EDITED TO ADD: This information is so important, CatCentric created a page to make it easier for consumers to contact the FDA directly to report pet food issues — Reporting Pet Food Problems
Guest Post! Originally posted by Susan Thixton on TruthAboutPetFood, September 15, 2015, and re-posted here with permission.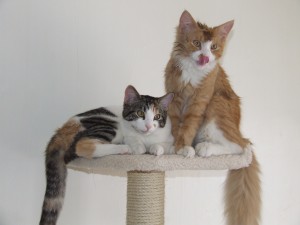 Consumer reported a foreign object in canned pet food to manufacturer. Manufacturer ignored consumer's calls. Consumer reported the foreign object to FDA. Manufacturer promptly contacts consumer. There is nothing like a call from the FDA to motivate a pet food company to do the right thing.
Because I regularly point out FDA's lack of regulatory oversight of pet food, it's only fair that I share a story of FDA doing something right.
A couple of weeks ago a consumer contacted me sharing a concerning 'find' in a can of pet food. She found a 2 ½ piece of black rubber cord in the can of dog food. The pet owner shared she phoned the pet food company immediately only to find "they have a recording where it is impossible to determine how to speak with someone in customer service – it just says 'if you know the staff member's extension…'. With hopes of reaching a live person, I hit '0' where a voice says customer service calls are not answered live, but you must leave a message which will be returned 'in a timely manner, usually no more than 24 hours'." She did leave a message, but never heard from the pet food company.
This consumer was/is educated about how 'things' can work in pet food, she shared with me she didn't want to just return the pet food to the store. She knew the store probably wouldn't report the issue and the issue would go unresolved – possibly harming another pet (if the foreign object was in other cans as well). She was frustrated with the lack of any response from this pet food company, so she wrote me asking how to pursue the issue.
My suggestion to her – as with any suspect problem in a pet food/treat – was to report the issue to FDA.
The pet owner promptly reported the foreign object in the pet food to FDA providing images of the foreign object. And guess what happened next?
A few days after reporting to FDA – the pet owner received the following message from the pet food company…
I want to begin by apologizing for our inability to resolve the problem you had with our dog food in a timely manner. I have received a call from the FDA explaining what happened recently when you purchased a can of XXX for your dog and found a black piece of cord. I understand your disappointment about the mishandling of your phone messages. It should never have happened.
I want to speak directly to you and I left you a message along with my cell phone number, we are on different coasts, but I am happy to speak with you outside of normal east coast business hours. In the meantime, the FDA representative gave me this email address and advised me that you do have a photo as well as the actual can and piece you found. If you can forward me the photos, I can immediately begin an investigation and I would also like to pick up the actual can and the piece you found.
There is nothing like a phone call from the FDA to motivate a pet food company to do the right thing.
I have asked (and asked and asked) FDA to initiate a program to help educate pet food consumers to report instances of pet food safety concerns to the agency. Each time I've asked, I get the 'deer in the headlights' look from them – with responses that they feel like everyone knows to do this. The truth is that few consumers and few veterinarians know they should report all instances like this and instances of pet illness or death to FDA. So – the effort of educating the pet food consumer public is left up to us.
Every time you hear of or read a consumer complaint that a foreign object or mold was found in a pet food or the food made a pet sick or it is believed to have killed the pet – tell that pet owner to report the incident to FDA. Report any pet food incident to FDA first, pet food manufacturer second, and if you like – social media third.
It is very easy to find on the FDA website information on how to report a pet food complaint. Two clicks and you are there…
Feel free to share the above image with anyone. The more we can encourage pet food consumers to report complaints to FDA, the better. No pet food company wants a call from FDA regarding a consumer complaint. As evidenced here, the call from FDA does prompt a company to step up and do the right thing. Consumer reports of any problem to FDA will help keep pet food safe. Two Clicks to safer pet food.
Wishing you and your pet(s) the best,
Susan Thixton
Pet Food Safety Advocate
Author Buyer Beware, Co-Author Dinner PAWsible
TruthaboutPetFood.com
Association for Truth in Pet Food
---
Tracy here!
This past Friday, the FDA released two videos that provide detailed guidance on reporting pet food problems. The first is for consumers and the second for manufacturers.
EDITED TO ADD: It appears the FDA has pulled these videos down for some "endorsement" concerns. If and when they are restored, you will be able to find them on our new  — Reporting Pet Food Problems page. 
I haven't fed manufactured cat food for many years, but it's a total no-brainer that any pet food sold in the US should at a bare minimum be safe to feed. Such is not the case today, but you can help change that. Every time your pet's food is moldy, contains foreign material, or is determined to be the cause of your pet's ill health, report the information to the FDA and get your vet to do the same. Only by proving our case can we force the changes so necessary to ensure our pets' foods are safe.
---