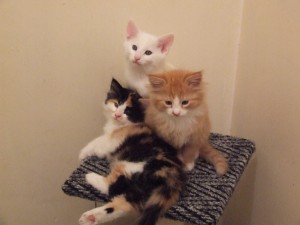 The internet is full of articles defining and dissecting the pet food industry and the appalling laxity of over-site under which it prospers. My intent with this page is not to duplicate any of that info, but to link to the most objective and comprehensive data already available.
Naturally, the first site that comes to mind when discussing the policies controlling the pet food industry is Susan Thixton's TruthAboutPetFood.com site. She's been researching pet foods, pet food ingredients, and the regulations that govern them for many years, and has likely forgotten more about the industry than I'll ever know. In 2011, she published "Buyer Beware: The Crimes, Lies and Truth about Pet Food," hands-down, the most comprehensive book of its kind on the market.
Dr. Jean Hofve, author of LittleBigCat.com, is also very knowledgeable on this topic and has partnered with Susan on several projects. Here are the first two paragraphs of her "Pet Food Regulation:"
While most pet guardians are certain that "someone" is in charge of regulating the manufacture of commercial dog food in this country, very few people know who that mysterious official or agency might be. But somebody's gotta be making sure that pet food doesn't contain any harmful ingredients and does contain what animals need to survive, right? The FDA? USDA? Someone?
Unfortunately, the answer isn't as clear-cut as, "Yes, it's all taken care of." There are numerous government and industry agencies that oversee various aspects of pet food production, but there really is no single office that provides seamless overall supervision of the industry. So is there anyone making sure that a "duck and potato" food really contains ducks and potatoes? Or testing the food to see whether it really contains a minimum of the 20 percent protein it claims in its "Guaranteed Analysis"? Maybe, depending on where you live. There are many opportunities for pet foods to fall between the cracks of testing and enforcement. A walk through the many halls of pet food regulation reveals why a reliance on some branch of the government to ensure a food is "nutritionally complete and balanced" is pure folly.
If you want to understand how little the industry is regulated, or glean some insight into the nuances of the intricate relationships between the FDA, AAFCO, AVMA and the pet food industry, I encourage you to do some reading on Susan and Dr. Hofve's sites.
And for yet more information on the pet food industry's processing, ingredient sourcing and labeling practices:
What's Really in Pet Food, Born Free USA
Deconstructing the Regulatory Façade: Why Confused Consumers Feed their Pets Ring Dings and Krispy Kremes, J. S. Patrick, Harvard Law
A Brief History of Commercial Pet Food, Feline Nutrition Education Society
– – – – – – – – – – – – – – – – – – – – – – – – – – – – – – – – – – – – – – – – – – – – – – – – – – – – – – – –
The Organizations
The Association of American Feed Control Officials (AAFCO)
->AAFCO Cat Food Nutrient Profiles (2008)
->AAFCO feeding trials explained.
U.S. Food and Drug Administration (FDA), Center for Veterinary Medicine (CVM)
CPG Sec. 690.300 Canned Pet Food Policy
: "Pet food consisting of material from diseased animals or animals which have died otherwise than by slaughter, which is in violation of 402(a)(5) will not ordinarily be actionable, if it is not otherwise in violation of the law. It will be considered fit for animal consumption."
->Information on Marketing a Pet Food Product
American Veterinarian Medical Association
Policy on Raw or Undercooked Animal-Source Protein in Cat and Dog Diets
(Policy approved 08/03/2012 with one amendment; final document not yet available)
The European Pet Food Industry (FEDIAF)
Updated Nutritional Guidelines Cats and Dogs
---
If you enjoyed this article or found it informative, please "Like" it, "Tweet" it, or share it using any of the buttons below. And don't forget to check out our FB page, join the discussions in our awesome FB group and follow us on Twitter!
Created 08/05/12; Updated 08/11/14