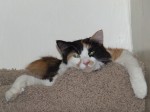 Overview
Although balanced raw diets are the most natural, nutritious and beneficial for our cats' health, not everyone is able to embrace the concept at this time. For them, canned food products are the next best option. Because the very nature of cooking changes the proteins and fats that cats depend upon for their energy and health, however, no canned product can truly approach a balanced raw diet in the quality of nutrition it provides and for that reason, this site is strongly pro-raw.
That said…
---
Choosing Products
The number of canned foods available is absolutely staggering, and the minimal regulation around the manufacture and marketing of these foods allows for some interesting labeling and ingredient sourcing and listing practices. This can cause serious, brow-furrowing confusion for anyone trying to decide what to bring home to their beloved felines.
Important information on choosing canned foods can be found on CatInfo.org's 'Commercial Foods' page. Dr. Pierson goes into extensive detail to help cat owners understand the nutritional composition of canned products and the many ways what you see on the label may vary from what's actually in the can. She also maintains a painstakingly assembled 'Nutritional Composition' chart listing the protein, fat, and carbohydrate percentages of dozens of the most widely available products, and includes an accompanying chart that lists these same products in order of their phosphorus content.
The TruthAboutPetFood.com maintains a comprehensive database of products, called Petsumer Report, that rates each product on the quality of the top four or five ingredients. The database requires a small annual fee to access, but includes information the author gleans by calling manufacturing companies directly and red flags potentially toxic and unhealthy ingredients for easy identification – knowledge worth the fee, IMO.
One thing to know right up front – there is no requirement that pet food products receive premarket approval by FDA. In addition, FDA regulations grant fairly wide allowances in naming products (Pet Food Labels – General). If a product contains any of these, or similar, words: "Dinner," "Platter," "Entree," "Nuggets" or "Formula," then the total of the ingredients named in the title must be greater than 25% but less than 95% of the product on a dry matter basis. Any ingredient proceeded by the word "with" need only comprise 3% DMB of the product.
Products with named ingredients that do not include any of the qualifiers above (for example, "Beef and Chicken Canned Cat Food") must contain at least 95% DMB of the named ingredients – and these are the products that are most likely to provide your cats with the "best" nutritional profiles.
More information on the minimal marketing and labeling regulations can be found on the FDA's Information on Marketing a Pet Food Product page.
———-
Recommendations from folks I respect:
>>>Liz Eastwood, Certified Holistic Nutrition Consultant (CNC) — Today's best cat foods–reviews of canned and raw options and These natural cat foods didn't make the "best" list: here's why
>>>Dr. Jean Hovfe, Holistic Veterinarian — Selecting a Good Commercial Pet Food and Lifestages, Lifestyles, and Cat Food
>>>Ingrid King, Veterinary Hospital Manager turned Writer — The best food for your cat: my recommendations
>>>Dr. Karen Becker, Holistic Veterinarian —  From Best to Worst-My New Rankings of 13 Pet Foods and You Asked For It… The 3 BEST Pet Foods You Can Buy
———-
A short video narrated by Susan Thixton of TruthAboutPetFood.com that succinctly and clearly explains why you need to pay close attention to the food choices you're making for the family cat.

---
Rotating Products
Feeding a rotation of foods is strongly recommended, as it will help prevent your cat from becoming fixated on any one product (a problem if they change or stop producing it) and will protect from potential quality control issues by diluting them. Since cats can develop hypersensitivity when continually exposed to the same proteins or ingredients for extended periods, it will also help prevent food intolerance issues (and the associated diarrhea and vomiting). Dr. Jean Hofve has a great article, Switching Foods, that goes into more depth on why offering a variety of foods is important.
---
Dry Matter Basis Conversion
To properly compare the guaranteed analysis of one food against another, you have to remove the water percentage from the equation and compare just the protein, fat, fiber, ash and carb content. This is called converting to a Dry Matter Basis (DMB), and here's an example showing how that's done…
---
If you enjoyed this article or found it informative, please "Like" it, "Tweet" it, or share it using any of the buttons below. And don't forget to check out our FB page, join the discussions in our awesome FB group and follow us on Twitter!
Created 03/12/12; Updated 02/08/17