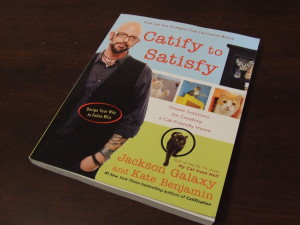 My Personal Blog Watch
---
The following is a list of books I've read and recommend as the best in their field:
Nutrition and Raw Feeding
Natural Nutrition for Cats: The Path to Purr-fect Health, 2008, Kymythy R. Schultze, C.N., C.N.C.
Raising Cats Naturally: How to care for your cat the way nature intended, 2003, Michelle T. Bernard
Nutrient Requirements of Dogs and Cats, 2006, National Research Council of the National Academies
Small Animal Clinical Nutrition, 4th Edition, 2000, Mark Morris Institute
Cat Owner's Home Veterinary Handbook, Third Edition, 2008, Debra M. Eldredge, D.V.M, Delbert G. Carlson, D.V.M., Liisa D. Carlson, D.V.M., and James M. Giffin, M.D.
Pottenger's Cats: A Study in Nutrition, 2009, Francis M. Pottenger, Jr., M.D.
The Complete Guide to Holistic Cat Care, 2009, Celeste Yarnall, Ph.D, and Jean Hofve, DVM
Your Cat: Simple New Secrets to a Longer, Stronger Life, 2007, Elizabeth M. Hodgkins, D.V.M., Esq.
Cat vs. Cat: Keeping Peace When You Have More Than One Cat, 2004, Pam Johnson-Bennett
Think Like a Cat: How to raise a well-adjusted cat – not a sour puss, 2011, Pam Johnson-Bennett
Naughty No More!, 2011, Marilyn Krieger
Redemption: The Myth of Pet Overpopulation and the No Kill Revolution in America, 2009, Nathan J. Winograd
Pet Food Industry Practices and Product Safety
Buyer Beware: The crimes, lies and truth about pet food, 2011, Susan Thixton (Ignore the cooking info at the back of the book. Feed raw instead!)
Not Fit for a Dog!: The Truth About Manufactured Dog and Cat Food, 2009, Michael W. Fox, B.Vet.Med, Ph.D, D.Sc., M.R.C.V.S., Elizabeth Hodgkins, D.V.M., and Marion E. Smart, D.V.M., Ph.D.
---
If you enjoyed this article or found it informative, please "Like" it, "Tweet" it, or share it using any of the buttons below. And don't forget to check out our FB page, join the discussions in our awesome FB group and follow us on Twitter!
Created 09/19/11; Updated 09/19/15