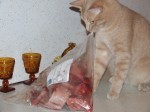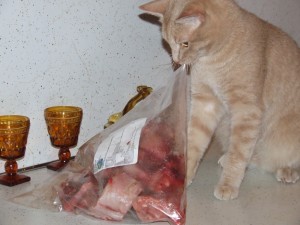 The questions I receive the most are all related to transitioning a cat to raw. They are also sometimes the most difficult to answer, as there are many variables. What is the cat eating now? What kind of raw diet are you interested in? How flexible is your cat? What products can you source? And more.
To help, I've written several articles dealing with the transition, from looking at things from a high-level perspective, Keep these four things in mind as you transition your cat to raw, to introducing specific diets, Getting-started tips for prey model raw (PMR) feeding. Additional articles are planned.
I've arranged these articles, along with another on transitioning to ground raw, in the order I think would be the easiest to assimilate. Giving our beloved cats the gift of species-appropriate nutrition is the single most important act of love a cat owner can engage in; I hope this information makes that gift an easier one to deliver!
Keep these four things in mind as you transition your cat to raw.
How to Transition Your Cat to a Ground Raw Diet New!
Getting-started tips for prey model raw feeding. Lots of tips to help you take control of your cat's diet.
Troubleshooting the Transition A rundown of the most commonly experienced transition issues, their potential causes and the most likely solutions.
'Switching a Cat to Raw Food' Flowchart For our visual readers! A flowchart depicting the basic steps to transition a cat from kibble to raw. Courtesy of Dakota Bawden, founder of the raw food store True Carnivores.
---
If you enjoyed this article or found it informative, please "Like" it, "Tweet" it, or share it using any of the buttons below. And don't forget to check out our FB page, join the discussions in our awesome FB group and follow us on Twitter!
Created 04/28/13; Updated 07/14/15