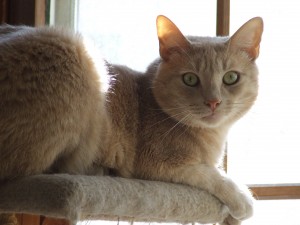 Here are some of the internet's most interesting and popular cat related articles and videos collected and shared during this past week. Enjoy!
(To see more fun videos, fascinating stories and adorable pics, just visit our FB page!)
10 March: This is great stuff! I love seeing cats run agility courses.
12 March: Raw feeding, passion, professionalism, and the naysayers.
This is as relevant today as it was when written. Given the vastly increased numbers of raw feeders, maybe even more so!
12 March: Update of FDA's Actions on FDAAA
One step forward! The going is slow, but the progress is measurable!
13 March: The Truth about Raw Food for Dogs
An outstanding article that obliterates the American Veterinarian Medical Association's basis for their anti-raw feeding policy (the ONLY policy in the history of the organization that specifically targets a product) and clearly delineates the relationships between the pet food industry, the veterinarian establishment and the AVMA.
A must read!
13 March: Cat Returns 8 Years Later to Vet Practice Where He Ran Away
What a great happy ending! I can just imagine the joy on the faces of those two girls.
14 March: Cognitive Dysfunction: Does Your Cat Prowl the House at Night and Vocalize? This May Be Why
Is your senior kitty acting a bit lost or disoriented? Dr. Becker shares four behavioral indications a cat may be suffering from cognitive dysfunction, and some things you can do to help.
14 March: New Kitten Checklist
Although I don't agree with everything she says here (by and large, veterinarians are *not* a good source of nutritional recommendations), there's a lot of good information on the preparation necessary for bringing your new kittens home. (Remember, always adopt in pairs!)
---