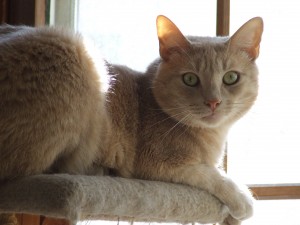 Here are some of the internet's most interesting and popular cat related articles and videos collected and shared during this past week. Enjoy!
(To see more fun videos, fascinating stories and adorable pics, just visit our FB page!)
20 January: Red Cross launches Pet First Aid App
"Does my cat need to go to the vet, or can first aid be administered right here at home?" is one of the most frequently asked questions by cat owners. And now, there's an app for that!
"Today, the Red Cross launched the Pet First Aid App for iPhone and Android users. It puts veterinary advice for everyday emergencies in the palm of your hand. Get the app and be prepared to act when called upon. With videos, interactive quizzes and simple step-by-step advice it's never been easier to know Pet First Aid."
20 January: Researchers study stem-cell therapy for feline kidney disease
Some hopeful news! Scientists researching kidney disease have discovered a potential therapy for reversing at least some of the damage – something that is not possible today!
Between this and the growing understanding of the relationship between high carb, low moisture diets and renal failure, is it possible we may be looking at the beginning of the end of this disease's prevalence?
24 January: Will Insects Soon be a Primary Source for Pet Food Protein?
Interesting! As I've said before, insects *are* a great source of protein and various micro-nutrients (Fact: Crickets pack an awesome nutritional punch!), but I'm not sure a full meal of them is something I'd be interested in feeding… nor am I all that confident that our money-hungry, ethically-challenged human and pet food industries won't degrade the quality of this protein source as they've done so thoroughly with standard protein sources.
24 January: Should You Disregard the FDA's Latest Pet Food Warning?
Another *seriously* flawed "study" pops up. This one's so-called results contradict reality so flagrantly, it's impossible to ignore the deliberately distorted – and pet food industry supporting – fear-mongering going on.
---