Guest Post! Originally posted by Rodney Habib on October 6, 2015, and re-posted here with permission.
DOES DRY, CRUNCHY COMMERCIAL PET FOOD ACTUALLY KEEP YOUR PET'S TEETH CLEAN?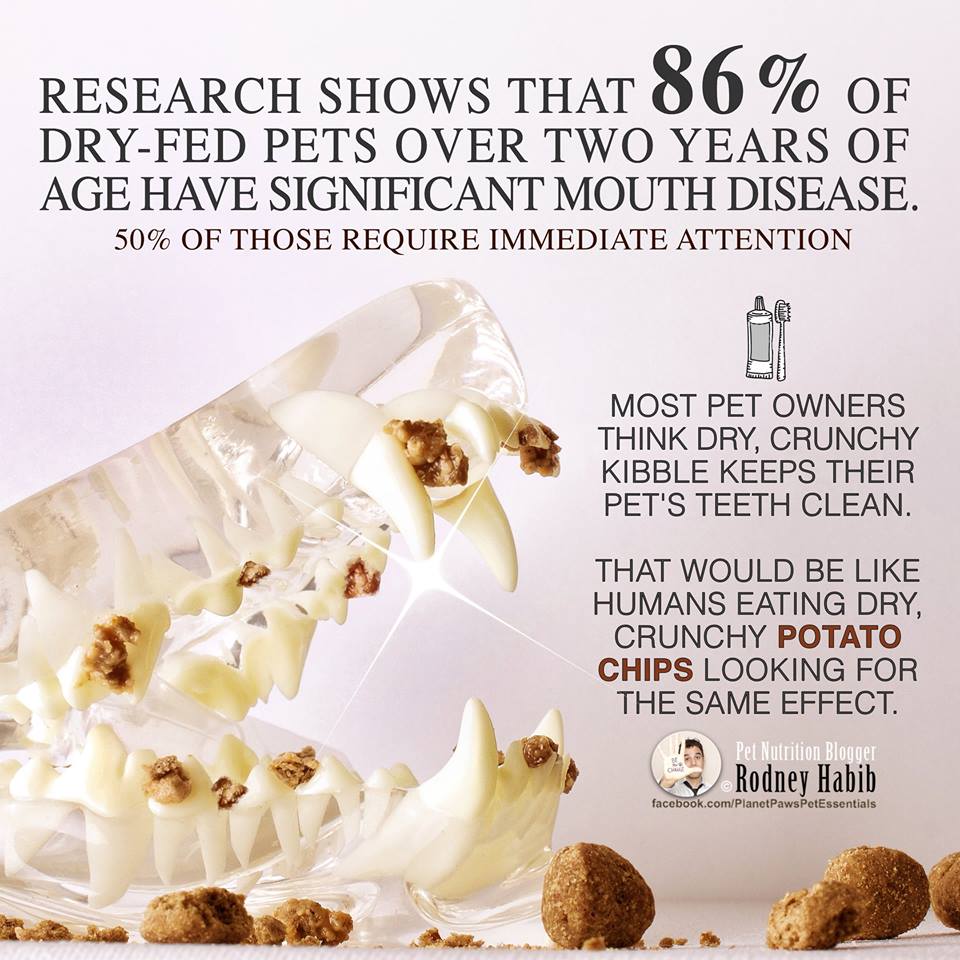 Yes, decades ago, this is what most pet owners actually believed. Feeding dogs and cats commercial kibble would actually keep their fur monsters' teeth clean.
Today, however, research shows this couldn't be any further from the truth!
According to the Ontario Veterinary Medical Association (OVMA), they estimate that 90% of pets over 2 years old have significant mouth disease and of that 90%, 50% require immediate attention.
According to the pet food industry, out of the 90% of pets suffering from mouth disease, at least 96% of the North American pet-owning population is feeding dried kibble to their pets. As you can see from these numbers, dry pet food isn't keeping anyone's teeth clean!
WHY IS DRY FOOD CAUSING SO MUCH MOUTH DISEASE?
Research shows that dry commercial pet food cannot be made without starch, and the average use of starch (aka sugar) by manufacturers, is around 40 to 49%.
Logically, feeding your pet all that starch (which their bodies convert to sugar) will not only not clean their teeth. In fact, it will cause the polar opposite effect. Or, at least, so says today's sky-rocketing mouth disease stats.
WHAT TO DO?
Well of course brushing is your best bet! But what if your pet won't let you? Well then according to Dogs Naturally Magazine's Dr. Will Falconer –
The best-kept secret for dental prevention is simply this: feeding raw bones. All that gnawing is literally scraping the tooth surfaces with a tooth friendly similar substance, a semi-hard polisher of enamel, and is a great exercise for the jaws and gums.
For more info – http://www.dogsnaturallymagazine.com/natural-dental-preven…/
ANOTHER GREAT IDEA?
According to Doctor Karen Becker, removing all the sugary starches out of your pet's diet is always the best route!
"Diet can play a significant role in the development of tartar on your pet's teeth. Wild dogs have strong, healthy teeth partly because they eat raw meaty bones. Raw diets help control tartar. Raw ground bone is a gentle dental abrasive, acting like fine sandpaper when chewed, which helps remove debris stuck on teeth. The meat contains natural enzymes, and in addition, raw food doesn't stick to teeth, unlike starchy kibble."
More info – http://healthypets.mercola.com/…/2014/01/01/pet-oral-health…
Remember: you always have options, but should never rely on dried starchy pellets to keep your pet's mouth and teeth clean!
Rodney Habib – Pet Nutrition Blogger
"An educated, informed and well-researched community of pet owners can only put more pressure on the pet food industry to be better! When pet owners know better, they will only do better!"
---