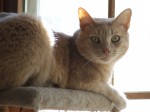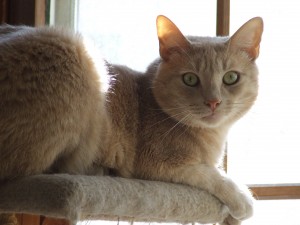 In case you missed any, here are the stories we discussed in February. Please note that with the increased Facebook activity, only stories related to CatCentric.org's categories are listed; to find the feel-good stories, awesome wild-life happenings and adorable pics, you will have to visit CatCentric's Facebook page!
5 February: Should Hill's y/d Diet Ever Be Used to Manage Cats with Hyperthyroidism?
Dr. Peterson answers a cat owner's question reference the efficacy of treating hyperthyroidism with Hill's y/d.
"When we look at the dietary composition of Hill's y/d, it's way too high in carbs (>23% of calories), and much too low in low in protein (<28% of calories). In addition, the protein that's contained in the dry y/d is all plant protein, which isn't as good as animal protein is for cats — when was the last time you heard of a feral cat that was a vegetarian?" In short, there are other, better, options available.
5 February: Product review: Whole Life Freeze Dried Treats
Ingrid King over at Conscious Cat gives a "four paws up" review of Whole Life's Freeze-Dried treats.
I always have a bag of Freeze-Dried Chicken on hand (amazon.com has the best prices) and it never fails to tempt a recalcitrant kitty to eat. I highly recommend these, especially for training and food transitioning!
5 February: The importance of dental health for your cat
Did you know that February is National Pet Dental Health Month? It is! So that makes Conscious Cat's latest article a very timely one. ;-}
I have six cats (ranging in age from 4 to 6 years) and I feed prey model raw. So far, none of them have needed a dental cleaning, and I don't expect they will any time soon. It's a good thing the raw food does such an awesome job keeping their teeth clean, however, because I can't even *imagine* trying to use a toothbrush on any of them!
How many of *you* brush your cat's teeth?
5 February: Could pet deworming regimen fuel parasite resistance?
A detailed and fascinating look at the pros and cons of the current veterinarian practice of "shotgun" treating for parasites.
I especially liked these comments by Dr. Chiara Switzer: "I have a couple of concerns," she said: "One, that the wide-ranging shotgun approach to tackle all parasites at one time, regardless of the risk for those parasites and whether or not you realistically need protection from them, will lead to parasites developing resistance to these drugs.
"Two," she continued, "that this approach is designed out of a fear of liability — regarding zoonotic (disease transmission) concerns — rather than actual sound medical advice.
Cats are naturally resistant ('though not immune) to heartworms, but I've heard anecdotal reports of fleas not responding to pesticides that used to kill them. Are you seeing an increase in toxin-resistant parasites such as fleas?
5 February: Changing insulin brands may disrupt diabetics
Be careful with brand changes if your cat is on insulin.
"The idea that different brands of the same type of insulin are readily interchangeable isn't unusual. It's a common understanding in the medical community. But while it may be true for most human diabetics, switching brands seems to spell trouble for some veterinary patients."
9 February: What it really costs to make cat food – not so much!
CatNutrition.org – another great feline nutrition website – recently calculated how much raw feeding her two cats costs (keeping in mind she grinds her foods and therefore requires additional supplementation):
"I bought free-range chicken (on sale at Whole Foods) and when I added up the total cost of the meat, eggs, organs and other ingredients – and divided the cost by the number of days it will feed Wilson and Sidney-Beans, I came up with a cost of about 90 cents a day per cat."
Ninety cents a day!! Not only can raw feeding keep your cats healthier and reduce vet visits, it can cost as low as pennies a day! What's not to love?! ;-}
18 February: Omega-3 Supplement Relieves Arthritis Symptoms in Cats
Do you have an elderly kitty? Or one you believe may be prone to arthritis? Most balanced raw diets include an emphasis on foods (or supplements) high in Omega 3's and here, Dr. Becker discusses how Omega 3 fatty acids may provide relief to cats who suffer from naturally occurring osteoarthritis.
19 February: A Veterinarian's Guide to Common Medical Terms
A veterinarian's short list of common Veterinary Medical Prefixes and definitions.
20 February: Diagnosis and Treatment Now Possible for Osteoarthritic Cats
This research and new pain management knowledge is great, as far as it goes.
I think determining *why* more than 80% of cats over 11 years old have this debilitating condition would be of far more benefit to the cats, however, than researching ways to manage the condition after the fact.
Inflammation has been linked very closely to diet, and the vast majority of housecats are fed grain-heavy, meat-light "foods" completely unsuitable to their digestive physiology or nutritional needs. That, I think, would be a great place to start.
20 February: The raw diet debate: Is the AVMA misleading pet owners with science?
Christie Keith is SPOT ON, both in her review of the October study that's recently gone viral (http://phys.org/news/2012-10-kittens-microbiomes.html) and in her condemnation of those who are twisting the study to suit their anti-raw agenda.
I'll just add that in addition to the common sense factor of feeding bones and organs WITH meat as a balanced diet, it's a no-brainer that any diet based on a single meat source is going to be nutritionally incomplete.
20 February: Veterinarian John Robb Challenges Banfield And Petsmart On Rabies Vaccination
A veterinarian standing up for his patients the way ALL veterinarians should be!
"Dr Robb says that the Banfield requirement to provide full doses of vaccines is hurting pets, and as someone who has taken an oath to do no harm it would not be ethical for him to continue with the practice. 'They are practicing the old model. It has been proven now that vaccines are killing pets, over-vaccinations are killing pets at an unprecedented rate.'"
21 February: When Pills and Medicines get into the wrong paws.
When your cat gets into something toxic, every second can count. Here, the Wall Street Journal talks about some of the most common poisons, the related symptoms, and who to call when you suspect your pet's ingested something dangerous.
The ASPCA has a 24/7 pet poison hotline, as does the Animal Poison Control Center; the former charges $65 per call, the latter $39 (CatCentric has added the APCC's badge to the main site menu and will be adding a Pet Poison page at some point in the future).
Have you had to call either helpline? What was your experience?
21 February: Honest Kitchen Recall Announcement from Our President
A recall on Honest Kitchen raw cat foods due to (oh, the irony!) contaminated parsley.
For most cats, Salmonella isn't going to cause any problems, but if your kitty is unhealthy or has serious digestive inflammation issues (IBD/IBS), your best bet is to return these foods.
21 February: Cat Health News from the Winn Feline Foundation: Alimentary lymphoma in cats
Again, this is fascinating and important information. But if the only thing that comes into contact with the GI tract is the food eaten, why aren't they examining the relationship between the cats' diets and the conditions of their digestive systems?
22 February: A team approach to caring for cats with cancer
Cancer is one of the leading causes of death in older cats. Remarkable medical advances are available, however, and it's not always the death sentence it used to be. And you certainly don't have to go through it alone
22 February: Blue Buffalo Kibble Change?
In no manner would I ever support feeding kibble to a carnivore, however, this incident heavily underscores something for which I *do* advocate – constant vigilance on the part of pet owners.
Protecting your beloved cat doesn't end after you've thoroughly researched what to put on her plate. Pay attention to every product you buy: commercial, home-made, raw or canned. If something's off about it, don't feed it! The potential consequences may not be worth the few dollars involved.
22 February: 'I didn't call the vet because…'
Another great article from Christie Keith. You are the first, last and ONLY line of defense for your pet. Do whatever it takes to stand up for her, no matter how far out of your comfort zone doing so takes you! ♥
23 February: American Association of Feline Practitioners (AAFP) and The International Society of Feline Medicine (ISFM) Feline Environmental Needs Guidelines
If you don't read anything else today, read this!! These folks are spot on about the importance of recognizing the cat's species-specific needs. It's not about "enriching" their environment, it's about recognizing their fundamental *requirements* for maintaining physical health and emotional well-being.
(Side Note: Replace the single reference to 'kibble' with 'freeze-dried meat' or other healthy treat!)
23 February: More Problems for Evangers Pet Food Owner
If you're feeding Evangers to your cats, you might want to stop. It's clear these folks are driven by greed and lack any sense of moral compass whatever. There's no telling what's actually in their products.
26 February: Natural doesn't always mean healthy when it comes to cat food
Being an informed consumer is vital if you truly wish to protect your cat's welfare. Here, Ingrid King discusses the how's and whys of reading and researching pet food product labels
26 February: Are drug companies honest about Heartworm?
Dr. Dobias takes a hard look at the heartworm protocols pushed by pharmaceutical companies and vets alike, and the results are eye-opening.
Like annual vaccination protocols, universal year-round heartworm treatments benefit everyone but the pet and the owner.
As an added note, most cats are kept inside, so their infection rate is just that much lower, and roughly half the cats infected never develop any signs of heartworm disease at all.
All drugs are toxins and have a harmful impact upon your pet's immune system. Do your research and make sure that dose is worth the cost. ♥
27 February: Food Stamps … For Pets?
What a wonderful idea! ♥
Please share, for donors and recipients alike.
27 February: Kasel Gets Slammed While Drug Laced Pet Treats from China Get a Free Pass
Although the product under question here is primarily fed to dogs, the kid gloves with which Chinese manufacturers are handled – even those *known* to be providing dangerous, adulterated products – should be of concern to us all.
To protect our cats, we must constantly be alert. Sleuths-R-Us!
28 February: American Veterinarian Medical Association (AVMA) Guidelines for the Euthanasia of Animals
The AVMA supports killing animals by gassing them, advocates against feeding an obligate carnivore raw food, and won't take a stand against declawing… or even support mandatory education regarding the procedure and alternatives.
Is it any wonder the organization is losing favor with progressive veterinarians who put their clients first?
---