First Annual BlogPaws Nose-to-Nose Pet Blogging and Social Media Awards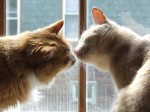 BlogPaws – an organization for the advocacy of pet bloggers and enthusiasts – has announced a very special contest, the "Nose-to-Nose" Social Media Pet Blogging Awards 2012.
This contest is judged by a panel of experts, after giving YOU the chance to nominate a blog – or multiple blogs – for as many of the 12 categories as you feel it/they deserve. The nominations close on 6 May – five days from now!
Go take a look at the categories, then nominate your favorite pet blogger(s)! It takes only a moment or two, and whether you nominate CatCentric or another blog, any support for those promoting the proper care or sharing their love of America's pets is support for the entire pet-loving community!
Of course, CatCentric would be honored if you choose to nominate us – especially for the best writing or best meow categories – so drop us line and let us know if you do! ;-}
---
If you enjoyed this post or found it informative, please "Like" it, "Tweet" it, or share it using any of the buttons below. And don't forget to check out our
FB page
, join the discussions in our
awesome FB group
and follow us on
Twitter
!