Fact: Feline nose prints are unique.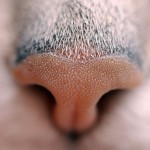 And speaking of noses (BlogPaws Nose-to-Nose Awards), did you know that every cat's nose print is as unique as a human fingerprint? It's true! Perhaps one day those intrusive and sometimes problematic microchip implants will be replaced with simple nose scanners, like the palm vein scanners high-end security-conscious organizations are using. We could nose scan our cats upon adoption and keep those scans on file for comparison should our feline family member become lost.
Can you imagine what a positive impact this would have on the numbers of animals restored to their proper owners after hurricanes and other cataclysmic disasters?!
Another interesting nose fact; the cat's sense of smell is more than 14 times as sensitive as ours. Fourteen times! Go stand above your cat's litter box and sniff… now imagine that odor multiplied 14 times. Whew! You can easily see why cats prefer open litter boxes over covered ones, and why scooping every day is so important. ;-}
In addition to an incredibly sensitive nose, cats have a special scent mechanism in the roof of their mouth, just behind their incisors, called a vomeronasal organ (VMO) or Jacobson's organ. Scientists believe the VMO is used primarily for detecting pheromones. A cat parts her mouth slightly to open the ducts leading to the VMO and gently inhales, passing air and scent molecules over the VMO. This act is often accompanied by nose lifting, eye squinting and sometimes a flattening of the ears that make the cat look as if she is grimacing. This posture is called the "flehmen response", from the German flehmen, which means 'to curl the upper lip'.
Cats and horses are both famous for their flehmen responses and Youtube is full of videos catching them in the act. Have you seen your cat do this, or caught it on film? If so, post a link to the video in the comments section and share it with us!
---
If you enjoyed this post or found it informative, please "Like" it, "Tweet" it, or share it using any of the buttons below. And don't forget to check out our
FB page
, join the discussions in our
awesome FB group
and follow us on
Twitter
!