Are you ready for next Wednesday's Annual Celebration Festivities?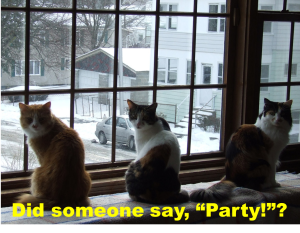 Have you marked your calendars? Are you ready to party? The 24 hour festivities celebrating CatCentric's third anniversary kick off at midnight next Tuesday!
My CatCentric colleagues are throwing a very cool Facebook Party (you'll need to join the group!) and we want all of you to join us, even if just to pop in, say, "Hi!" and post a picture or two of your kitties. If you can stay longer and tell us your kitty stories and share some of your experiences as a cat owner, that would be even better. We'd like to use this opportunity to get to know our fans and readers better!
CatCentric is also launching a one day only promotional event. For three years, I've pretty much let CatCentric's readership and fan base grow organically, and though it's done fairly well (especially in Facebook), this is a good time to give it a boost. If you have been helped by any of our articles or enjoyed any of our pics and stories, we hope that on Wednesday – if you haven't already done so – you will: subscribe to this blog, like our Facebook Page, and follow us on Twitter and Google+, AND that you will post, share and tweet the CatCentric website and media profiles and ask your friends to subscribe, like, follow and share as well, not just on Facebook, Twitter and Google+, but on Reddit, Tumblr, Instagram, Pinterest and so on. We need your help to hit our celebratory goals, and if each of you brings in just one website subscriber, Facebook fan and Twitter follower each, we totally will!
Get ready! It's going to be an amazing day!
---
If you enjoyed this post or found it informative, please "Like" it, "Tweet" it, or share it using any of the buttons below. And don't forget to check out our
FB page
, join the discussions in our
awesome FB group
and follow us on
Twitter
!