Today kicks off AAFCO's 2015 Annual Meeting – And you can listen in!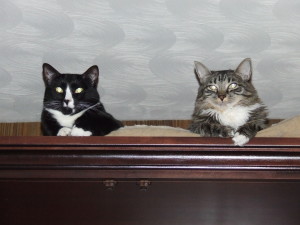 Are you interested in what goes into your cat's commercially manufactured food products? Would you like to hear the conversations that determine those ingredients?
You can! Today kicks off the Association of American Feed Control Officials' 2015 annual meeting (AAFCO). And you can listen in!
There is no fee, but there is a limit to the number of listeners, so if you're interested in a particular session – get there early.
To listen via WebEx: http://fass.webex.com
To listen via Conference Call Line: #1-800-944-8766, Passcode: 70236#
This year will be especially exciting, as pets and their owners are better represented than we have ever been, with four veterinarians and four pet food consumer advocates attending on our behalf. These exceptionally knowledgeable, passionate and determined experts are giving up their own time and money for this trip (and AAFCO's registration fees) for no reason but to represent our beloved cats and dogs:
Dr. Cathy Alinovi – Veterinarian, Dr. Cathy Vet
Dr. Jean Hofve – Veterinarian, Little Big Cat
Dr. Judy Morgan – Veterinarian, Dr. Judy Morgan
Dr. Karen Becker – Veterinarian, Dr. Karen Becker, Mercola
Mollie Morrissette – Consumer advocate, Poisoned Pets
Nina Wolf – Consumer and independent pet food stores advocate, Animal Nature
Rodney Habib – Consumer advocate, Rodney Habib
Susan Thixton – Consumer advocate, Truth About Pet Food
Dr. Jean Hofve, Mollie Morrisette, and Susan Thixton are also advisory members of both the AAFCO "Pet Food" and AAFCO "Ingredient Definitions" Committees.
Back in 2011, AAFCO sat down with the rendering industry during one of these annual meetings to discuss the creation of a pet food name – a euphemism, really – for expired Hot Pockets and other grocery store waste, one that would be attractive to pet food consumers. Thanks to this wonderful team of advocates, these decisions will no longer take place without the knowledge and input of folks who actually put the needs of the pets eating that food first. We are well represented with this awesome team!
You can find AAFCO's full meeting agenda by clicking here, but the following sessions should be of particular interest:
Monday, 3 August, 3:30 – 4:30 PM MT – This is today! –
Enforcement Issues Committee, Full Agenda
The first topic of this meeting will be a "Discussion of Potential Misbranding of Feed Ingredients and Finished Commercial Feeds" over concerns around the results of a study published earlier this year that found multiple pet foods containing animal proteins not included on the ingredients list and/or lacking animal proteins that were included on the ingredients list, brought to the attention of this committee by Dr. Hofve.
If time allows, the session will also include discussion of misleading images on pet food labels.
Tuesday, 4 August, 10:00 AM – 12:00 PM MT
Pet Food Committee, Full Agenda
The hot topic of this session will be a "Discussion of 'human grade' and 'human grade ingredients' claims". Historically, the FDA has verified human grade ingredient pet food claims, however, they recently discontinued their role in these verifications, leaving the task in the hands of the separate State Departments of Agriculture. This session will determine what the States will require to verify human grade ingredient claims.
Tuesday, 4 August, 1:30 – 4:45 PM MT
Ingredient Definitions Committee, Full Agenda
This meeting will be an eye opener for most pet owners listening in for the first time, as it exposes the full scope of the (for the most part) disgusting ingredients allowed for use in animal feeds (which includes pet foods). Among other topics, this meeting will discuss how ingredient definitions are reflected in ingredient purchasing specifications and, if there is time, an in-depth reveal on the definition of "Feed Grade" (the term used to define what is allowed in animal feeds). For those who aren't aware, if a pet food is not made with human grade ingredients, it is made with 'feed grade' ingredients, also termed by AAFCO as "pet grade" and "inedible for human consumption".
Again, here is the info to eavesdrop on any of these committees:
Via WebEx: http://fass.webex.com
Via Conference Call Line: #1-800-944-8766, Passcode: 70236#
————————————-
As you can see, this two day meeting will cover some pretty important topics. I highly recommend you dial in if at all possible. The pet food industry will be strongly represented and, 'though we can't be there in person, we can show our support for the consumer advocates via the phone lines. And take copious notes! Susan Thixton will be discussing these meetings on her website, Truth About Pet Food, upon her return, and will be soliciting your input. This is a chance to make beneficial changes to the manufacturing of the foods so many of us feed our cats; be a part of that change!
---
If you enjoyed this post or found it informative, please "Like" it, "Tweet" it, or share it using any of the buttons below. And don't forget to check out our
FB page
, join the discussions in our
awesome FB group
and follow us on
Twitter
!