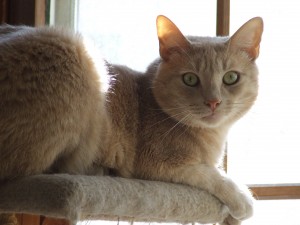 Here are some of the internet's most interesting and popular cat related articles and videos collected and shared during this past week. Enjoy!
(To see more fun videos, fascinating stories and adorable pics, just visit our FB page!)
10 February: Chronic Vomiting in Cats isn't Normal After All
Is your cat a puker? Have a sensitive stomach? Eat too fast? Hack up hairballs every once in a while? While most of us and many vets consider these situations to be "normal," new evidence-based research indicates they are not!
Notably, in 26 cats presented for annual wellness exams, when the study author went through the cats' dietary history, "vomiting" was the most commonly reported clinical sign and is often accepted by the client as insignificant based on one or more of the excuses listed above. Yet of those 26 cats, 16 had chronic enteritis, 8 had lymphoma, and 2 had lymphoma and mast cell disease.
Science is finally catching up to common sense – cats should not be vomiting, and hairballs are *not* normal. Both indicate a digestive motility problem that may have already progressed to serious disease.
10 February: Flea Collars May Be Killing Your Pet: Toxins in Flea Collars
Even though the focus is on human health in this write-up, the fact that this kind of information is beginning to pop up in such non-pet-related magazines as "Men's Journal" is encouraging. It shows that despite the money pouring daily into marketing, a broader – and more accurate – picture is emerging on the efficacy and safety of these toxic products.
11 February: Tooth resorption: a painfully common dental disease in cats
Tooth resorption is a painful condition that has been growing ever more common among our domestic kitties. Here's everything you need to know about this dental disease, including how to prevent it.
It will come as no surprise to CatCentric readers that feeding a natural diet that includes the ripping, tearing, scissoring (tooth cleaning/gum massaging) action of eating through chunks of meat and bone-in meals is one way to maintain feline oral health!
12 February: Incestuous Pet Food Regulation Allows Consumers to Feed their Pets Ring Dings and Krispy Kremes
This work was done in 2006, but the level of research is unparalleled even today. This, my friends, is what's in your standard commercial pet food products. Brace yourselves… it's not pretty.
12 February: Gum Disease: New, Yet Preventable Epidemic in Cats and Dogs
February is National Pet Dental Month.
Did you know that more than 70 percent of cats over the age of 3 will develop dental disease? Many people mistakenly believe that kibble will help keep their pet's teeth clean (which makes no logical since considering the statistics). Besides brushing your cat's teeth (if you can) and undergoing dangerous dental cleanings (and the associated risks of an anesthetic drug), feeding a raw whole balanced meaty diet is one way – IMO, the best way! – to keep your cat's mouth clean!
14 February: Top Five Traits of Responsible Cat Owners
February is also National Cat Appreciation and National Cat Health Month as well as Responsible Pet Owners Month, making this the purrfect time to discuss the basic tenets of conscientious cat care. Here are CatCentric's top five favorite traits of responsible and caring cat owners.
---