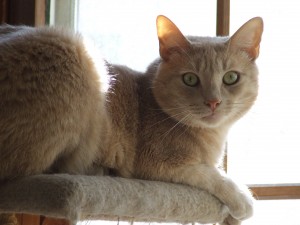 Here are some of the internet's most interesting and popular cat related articles and videos collected and shared during this past week. Enjoy!
(To see more fun videos, fascinating stories and adorable pics, follow us on Twitter or Facebook!)
23 March: Cat Alarm Clocks Are The Best Alarm Clocks
This made me laugh out loud the first time I watched it. I love the cat parents who woke with smiles on their faces!
Do your kitties paw you awake in the morning? Do you like it?
http://www.youtube.com/watch?v=0RVOhG0Pauw
23 March: Cat Cowboy
Totally adorable. At the :46 mark, you can even hear the kitty purring.
24 March: 2 Flea Collar Makers Agree to Stop Using Propoxur
This is an action that is way overdue. These flea collars – all flea collars, in fact – are toxic and put a dangerous burden on feline neurological systems. Multiple problems have been traced to flea collars and spot-on treatments and this is not the first drug to be discontinued; Pfizer, for instance, ceased distribution of ProMeris, a topical flea/tick treatment, in 2011 after it was linked with a variant of pemphigus foliaceus (PF), an auto-immune skin disease.
If you need to manage a flea or tick infestation, there are several options that are both safer and just as effective!
24 March: Your Dog as Life Coach: Helping Your Child Make a Positive Difference in the World
I know this is (for now) canine-specific, but this program is so full of win I had to share!
25 March: Common Complaints and Solutions: Cats digging in gardens and flower beds
One of the most common complaints against feral and stray cats is the damage they sometimes inflict on flower beds and gardens. With Spring finally arriving, this is a great time for feral cat advocates to give gardeners the tools to help them live in peace with the neighborhood colony!
25 March: Why Do Cats Purr?
No one knows quite how the cat's purr is generated, but here are some interesting theories… and some fascinating insights into when and why a cat may purr.
And some of these may surprise you!
25 March: Cat Burglar Busted – Funny Cat Gets Caught
The look on this little kitteh's face when he realizes he's been caught is priceless!
26 March: Q&A: Why does my cat suddenly bite me for no reason?
This topic has garnered the most comments on the CatCentric blog and is the one that most frequently hits my email inbox – Why do cats flip from calm to cantankerous in a seeming instant?
The reason is… they don't! Read on to find out what's really going on and how to prevent these attacks altogether.
26 March: Glucocorticoid: Avoid This Popular Pet Drug Until You Learn Its Shocking Side Effects
Glucocorticoid drugs are often prescribed for the hundreds of kitties suffering from Inflammatory Bowel Disease. If your beloved feline is one of those kitties, this article is of special interest to you.
26 March: Why More Hospitals Are Letting Pets Visit Their Sick Owners
Not just in specialized hospitals any more, this trend is becoming more mainstream all the time. And for good reason!
"Pets are as much a part of the family structure as any other member," Roy says. "We realized that if you're hospitalized, you would be much happier seeing your own pet rather than a therapy animal, so that's why we focused our program on the patient's own pet."
27 March: Additive Manufacturing—or 3D Printing—helps Create new Knee Joint for a Cat
Fascinating new technology gives cat a replacement knee joint.
27 March: Help exists for those struggling to pay veterinary bills
Fighting to save your cat's life in an emergency is something we all dread. And none of us want to be forced to make any decisions based on finances. If you *are* put in this position however, there is help available.
And more resources can be found right here on CatCentric.org: Financial Assistance
27 March: Positively 'purrfect' therapy
Tonight we celebrate another very special therapy kitty. Meet Piglet, Colorado's charismatic, sweater-wearing sphynx!
28 March: Raw Feeding Your Cat: Just the Basics
A few days ago, we shared the results of a study that indicated a shocking number of popular canned cat foods are deficient in an essential vitamin, despite their AAFCO "Complete and Balanced" stamp (http://catcentric.org/2014/03/24/another-study-shows-aafcos-complete-and-balanced-really-isnt-and-the-lie-could-be-killing-your-cat/).
In addition to justified outrage, that article provoked many of you to think more seriously about retaking control of your cat's diet, and ditching those overly-processed canned and bagged products for a fresher menu. Even raw feeding has a mutitude of options, however, so here's some information to help you choose.
28 March: Switching a cat to raw food.
Now that you have an idea which raw diet fits your schedule and lifestyle the best, here is an easy-to-read flow chart illustrating how to transition your cat from kibble to raw.
We also have a wonderful FB community with knowledgeable and helpful members that can pretty much answer any questions you may have about feeding raw food!
28 March: Cute Kittens Run Their Purr Motors
Big purrs, its Friday 🙂
---