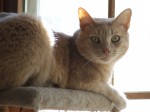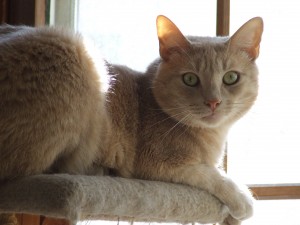 In case you missed any, here are the stories we discussed in April. Please note that with the increased Facebook activity, only stories related to CatCentric.org's categories are listed; to find the feel-good stories, awesome wild-life happenings and adorable pics, you will have to visit CatCentric's Facebook page!
5 April: American Holistic Veterinarian Medical Foundation
"Cats are carnivores. Are there differences in feeding them home made raw foods, commercial raw foods, or commercial diets? Without research we can't know. Help us raise the $2 million to create just such a research and education center."
Like, share, donate, and share again!!! Seriously, my friends, you know this is exactly what we need! (Even a dollar a month is helpful!)
6 April: Bravo! Recalls Pathogen-Free Pet Food: Why?
Considering how very small the percentage of raw pet foods on today's market, and how many of those products have been recalled lately, this is a question that's crossed many minds.
7 April: Wheat Ingredients Concern
Wheat-containing pet food products have many of the same concerns as those containing corn, including fungal contaminants.
Cats, of course, shouldn't be fed anything that contains any type of grain anyway. Right? ;-}
7 April: Pets for Life: HSUS' New and Innovative Animal Welfare Program
I don't have much use for the HSUS in general, but this program certainly looks promising…
"In order to reduce the overpopulation of animals in shelters, improve the lives of pets, and to connect with and help communities that are underserved, Pets For Life uses groundbreaking strategies and fresh approaches that are aimed at expanding access to animal resources, education and low cost or free veterinary care.
9 April: Raw Fed Animals in Need "The Adoption Site" (need to look this up on FB)
Definitely worth knowing about and sharing! Trying to do right by cats through fostering and adopting out is already difficult enough, throw in the need to find a new owner willing to feed a fresh, raw diet and the level of difficulty leaps right off the charts.
Let's help these great folks out by liking and sharing this site today!
9 April: The Carnivore-Connection-to-Nutrition-in-Cats
I'll bet most of you can immediately explain the differences between herbivores and carnivores, but how many understand the crucial nuances between carnivores and "obligate" carnivores?
Here, in a slightly dusty but still compelling document, Dr. Zoran explains in wonderfully clear language the connection between the cat's obligate carnivore status and its adamant need for a diet based on the flesh and blood of fresh, raw animals.
Read it. Share it. And switch your kitties to a life of health today!
19 April: Carrageenan: should it be in your cat's food?
Does your canned cat food contain Carrageenan? Most do, yet studies have linked it to cancer, and there are hundreds of anecdotal stories of cats finding relief from multiple digestive system issues, including Irritable Bowel Syndrome (IBS) and Inflammatory Bowel Disease (IBD) when switched from carrageenan-containing products to carrageenan-free foods.
What's this ingredient in my pet's food?
Carrageenan: Just don't do it.
19 April: Animal Medical Center (AMC) TO THE RESCUE
A new resource for pet rescues and adopters. If you are a 501(c)(3) rescue, you should apply for inclusion in this program; if you have an extra dollar or two, you should donate!
"This fund was established specifically to provide subsidized specialty care to animals currently cared for by rescue groups, whose health has become an obstacle to their adoption
19 April: The Purdue Vaccination Studies and Auto-antibodies
A detailed look at the studies done on pet vaccinations, and the negligent response of those who profess to care the most about our pets.
"At around the same time, the American Veterinary Medical Association (AVMA) Vaccine-Associated Feline Sarcoma Task Force initiated several studies to find out why 160,000 cats each year in the USA develop terminal cancer at their vaccine injection sites.(3) The fact that cats can get vaccine-induced cancer has been acknowledged by veterinary bodies around the world, and even the British Government acknowledged it through its Working Group charged with the task of looking into canine and feline vaccines(4) following pressure from Canine Health Concern. What do you imagine was the advice of the AVMA Task Force, veterinary bodies and governments? "Carry on vaccinating until we find out why vaccines are killing cats, and which cats are most likely to die.
20 April: Urge Congress to Support the Veterinary Medicine Mobility Act of 2013
If you have any type of pet, but especially cats, this is likely to be of interest to you, and certainly worth taking a few minutes to fill in an easy template and hit "send"!
20 April: Hill's Science Diet petfood brand losing market share
Of course they are! Pet food consumers are arming themselves with real information and using that info to make better choices for their beloved pets… and no matter how hard and long Hill's massages the Science Diet ingredient list, it's still crapple in a bag, and a profoundly *unhealthy* feline diet.
April 26: Animal Trauma Centers Aim To Help Severely Injured Pets
There are some missing pieces to this concept – namely, the emergency transport and triage (EMS) – but this is exciting to see!
27 April: Cats Can Have Toy Preferences
Very true! Something else to keep in mind – rotate your solo toys so there's always something new and interesting to pique your cat's interest.
My Rachel loves those VoToy furry balls, Allen drools over his catnip bananas, Heather can never get enough of the Bergan tracks and, of course, they all go nutso for Da Bird.
What's your cat's favorite?
27 April: National Hairball Awareness Day 2013
Chronic hairballs are *not* a natural feline trait. If your cat coughs 'em up, you need to find out why, and remedy it.
Switching from free-feeding to feeding three or four scheduled meals a day is one step you can take (How Often Should You Feed Your Cat?), and ditching the processed foods for a fresh, species-appropriate raw diet an even better step.
27 April: Are Hairballs Truly Coughed Up? Let's Talk Myth VS. Fact
Another hairball article, using plain yet humorous language to drive home the truth – hairballs are a sign of compromised digestive motility (most likely caused by an inappropriate diet) that requires attention.
27 April: Pet Stain and Odor Removers That Get the Job Done
Living is messy, living with pets even more so. Let Ingrid King help you find the right product for cleanups!
27 April: 5 Reasons You Should Play with Your Cat Every Day
Great writing on a critically important topic! Feline well being depends on addressing their unique nutritional and behavioral needs, and play time is an integral part of the latter.
Best time to play is at dusk and dawn, as these are a cat's naturally active (read: hunting) periods.
28 April: Common Mistakes Made by New Cat Parents
Pam Johnson-Bennett's book, "Think Like a Cat," is a must-have for every cat lover. Here, she corrects five common mistakes of new cat owners.
28 April: Morris Animal Foundation
Studies are beginning to identify the ingredients in commercial pet foods responsible for the 19% (and still rising) increase in hyperthyroidism cases over the last five years. No surprise the cause is plant-based, as cats are not herbivores and shouldn't be eating plants.
"They learned that flavonoids—plant proteins found in commercially available cat food—activate cultured feline thyroid cells as effectively as a cat's normal thyroid-stimulating hormone. This suggests that flavonoids may interfere with normal thyroid function and be a contributing factor in the development of feline hyperthyroidism."
---