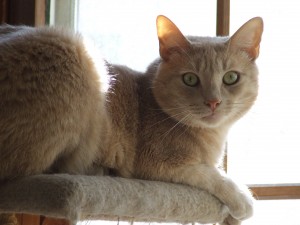 Here are some of the internet's most interesting and popular cat related articles and videos collected and shared during this past week. Enjoy!
(To see more fun videos, fascinating stories and adorable pics, just visit our FB page!)
24 February: Your Cat's Environmental Needs: Practical Tips for Pet Owners
A short but very informative brochure jointly issued from the wonderfully knowledgeable folks at the American Association of Feline Practitioners (AAFP) and the International Society for Feline Medicine (ISFM). Feline environmental enrichment is vital to a cat's well-being and should be one of the first aspects considered when bringing one of these awesome creatures home.
25 February: 7 Reasons Why You Should Take a Pet First Aid Course
Here's a topic we don't discuss much – taking a pet first aid course. JaneA Kelley lists 7 reasons why doing so is really a very good idea.
Frankly, all I need is the most basic reason of all… having that information *could* make the difference between life and death for your cat!
25 February: In Praise of Older Cats
A wonderful discussion on the joys of adopting older cats.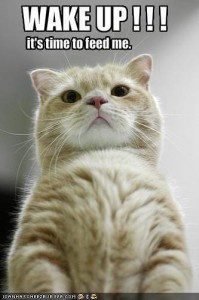 25 February: Q&A: How can I prevent the 5:00am breakfast call?
No one wants to see this, especially not before dawn, yet it's one of the most common cat owner complaints. Learn how, with just a few simple changes and some patience, you can change this behavior forever!
27 February: Hyperthyroidism: The Growing Epidemic that Can Make Your Cat Extra Hungry
Yet another increasingly common feline disease is linked to commercial pet "foods."
Protect their health by taking the guess work out of feeding your cats – give them the fresh whole foods nature intended for them to eat!
27 February: Hiccups in Cats and Kittens: Is this a Serious Condition?
Ever heard your kitty hiccup? Did it worry you? Read when it should – and shouldn't – be a cause for alarm.
28 February: The Secret Life of a Cat: What mischievous moggies get up to behind their owners' backs
An interesting look at the roaming habits of 50 domestic cats in the UK, where allowing cats free outside access is far more prevalent than the US.
Although there are very good reasons for keeping cats inside (some of which are even underscored by what the researchers discovered), learning what these cats do when left to their own devices is fascinating.
---