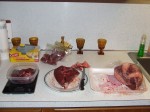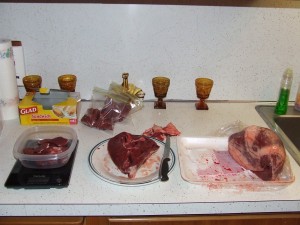 It's a given that in today's society, most of us are crazy busy. We've got boyfriends or husbands, kids, friends, family, jobs and all the ups and downs of daily life. It's no wonder the convenience of spending all of two minutes to grab a bag or a can and dump the contents into a pet's bowl is the driving force behind the near-universal popularity of processed diets.
Time, however, has begun to show us how harmful those diets actually are, and as growing numbers of pet parents take to the internet in search of healthier options – ones that don't provoke allergies, obesity, diabetes, kidney disease and more – an understanding of the incredibly amazing benefits of providing our cats with wholesome, raw, species-appropriate food is spreading.
Unfortunately, even as more pet parents realize how profoundly the health of their beloved furchildren has been impacted by those convenient but insanely over-processed products, the pressures of their busy lives continue unabated. Because the pet food industry lacks any desire to research balanced fresh raw diets – understandably so – and veterinarians seldom have the resources to research on their own and so lean on those self-same PFI representatives for nutritional input, pet parents are left to fend for themselves as they attempt to improve their pets' diets. Finding the time to research all the many raw feeding options and weigh the differing opinions can sometimes be overwhelming, and some become so discouraged they reluctantly turn back to commercially processed foods.
Many cat owners find CatCentric before they reach that point, and I receive emails every week asking for a simple, straight-forward no-need-to-think-about-it raw feeding recipe. If you're contemplating a ground diet, no problem, I can refer you to several well-researched and tested recipes (although I don't, as a general rule, recommend ground as a long-term diet option). If, however, you're looking for a prey model raw (PMR) – or "frankenprey" – menu or recipe… well, nothing would make me happier than to be able to satisfy your requests, but it's just not possible to offer anything more than examples. (Like this one.)
PMR is a concept. After you understand the 80/10/5/5 guideline (that's 80% – 87% meat, fat, skin, sinew, connective tissue and heart, 5% – 10% edible bone, 3% – 5% liver, and 5% other secreting organ) and establish the percentages for your particular cats (see A Frankenprey / Whole Prey Feeding Guide for details), everything about the PMR methodology is customizable to your circumstances – budget, resources, personal choices, etc. – and the only person who has full access to those logistics is you. I can help you understand the percentages and create a schedule, but the actual menu choices will have to be researched and chosen by you.
Coupled with the usually comparatively lower cost, this flexibility is one of the prime benefits for pet owners who wish to feed their cats a raw diet. Can't get beef where you are, but kangaroo is popular? No problem, you can incorporate kangaroo into a PMR diet. Feel strongly against supporting factory farming practices and prefer to buy local, naturally raised meat? It's totally fine to substitute one for the other. Your kitty has been diagnosed with chronic kidney disease and needs a low phosphorus diet? PMR can easily be tweaked to adjust to many specialized dietary needs, including a low phosphorus diet that supports kidney health.
Not only can a PMR diet can be modified to fit just about any set of circumstances, it is, in fact, inherently defined by the special, unique set of circumstances personal to every family. That it can be customized so specifically makes it the perfect choice for cat owners wishing to offer their furry little friends one of the healthiest diet options available.
Just don't ask me to send you the "recipe". 😉
---