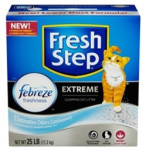 "This post is sponsored by Fresh Step®  and the BlogPaws® Influencer Network. I am being compensated to help create awareness about the new Fresh Step® with Febreze® but I only share information I feel is relevant to CatCentric readers. Fresh Step is not responsible for the content of this article."
Check it out, CatCentric readers – my very first sponsored review!
As a member of the Blog Paws Influencer network, I receive information on brand campaigns fairly regularly. I scan through them as they arrive, but hadn't seen any I thought worth a write-up until the campaign for this one caught my eye. With six cats, I go through a ridiculous amount of cat litter. I have three gigantic litter boxes – one in the front hallway closet, one in my storage room and one in my library – and each box takes 84 pounds of litter to fill.
Yes, you read that right, 84 pounds of kitty litter. Per box.
For years and years, as far back as I can remember, I've used Fresh Step kitty litter. The cats like it, the scent is barely noticeable and it handles clumping and odor spectacularly well. (How well? I once had a visitor standing a measly four feet away from the screened off library litter box who, upon catching sight of one of my kitties, remarked, "Oh, you have a cat?" Imagine his surprise when I told him I had six cats, and then told him the screen beside him hid a 110 quart litter box!)
The only downside to my usual Fresh Step Extreme litter is the amount ofdust it kicks up when poured, and this is especially noticeable – and aggravating – in the library, where every litter box change means another thin coat of dust settling on my books… all 2,000 + of them. Not my favorite thing.
So when I read the information on the new Fresh Step® with the Power of Febreze™ litter…
10-day odor control GUARANTEED! Locks in liquid and odor on contact with Fresh Step ClumpLock® Technology! Forms tight clumps and makes scooping easy! Clean and fresh smelling! Improved formula with lower dust and less tracking! Created with your cat's health and happiness in mind!
… guess what I zeroed in on? Yep. And, voila, we have CatCentric's first sponsored review!  😉
To make this experiment as fair as possible, I closed off the storage room so the cats couldn't use that litter box, then emptied and thoroughly scrubbed out the hallway and library boxes. I refilled the hallway box with my usual Fresh Step Extreme litter, then filled half of the library box with Fresh Step Extreme and topped it off with an equal amount of the new Fresh Step Extreme with the power of Febreze (which I picked up from my local Petsmart).
Going into this, I have to admit I was a bit leery. We all know how sensitive cats are to overpowering smells and strong odors and I wasn't sure how they would react to the Febreze scent. Furthermore, cats don't like change, especially in their litter boxes, and super especially if they've been using the same litter for eons. (Ok, for their entire lives.)
As of today, the cats have been using this set up for almost two weeks, and the results are surprising.
First, the Febreze scent is noticeable, especially when the litter is initially poured out, but not overwhelmingly so and it fades nicely overnight.
Second, both in the pouring and in the scooping, the new Fresh Step is clearly less dusty. In fact, there's hardly any dust at all! This is great for me, but even better for my kitties when they're digging around in it.
Third, and most importantly… the cats are actually using the box that contains the new Fresh Step litter more than the other one. I'm not sure why, but I'm guessing it's probably because they don't have so much dust in their faces when they're furiously digging before and after they do their business.
So, the new Fresh Step® with the Power of Febreze™ kitty litter gets four paws up from the CatCentric clowder and two thumbs up from me!  🙂
---