CatCentric's Third Anniversary: Let's Bring It Home!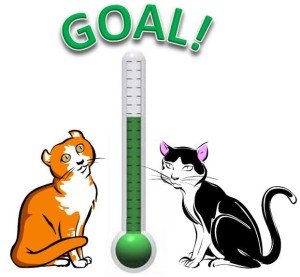 As you saw in an earlier post from my very good friend and CatCentric contributing author, Laurie Goldstein, CatCentric's third anniversary is fast approaching. This year, I'm both delighted and humbled that the rest of the team secretly put together a wonderful surprise party to honor the organization's amazing year. It's not possible to calculate the numbers of cats whose lives we've had a hand in improving, but from the emails and other messages we receive, it's quite a few. And that is truly wonderful. It is my blessing and my honor to have the resources – and the trust of so many cat owners – that make the opportunity for such improvements even possible.
For my part of the festivities, I'm actually going to challenge you, CatCentric's readers and fans. For 24 hours, beginning at 12:00 am on October 1st and ending at midnight that night, I'm asking all of you to pop over to your favorite sites (you're going there anyway *smile*) and talk up CatCentric. Post a link to this website and ask everyone you know to subscribe to the blog, "Like" and share the Facebook page and ask your friends to do so as well, Tweet @CatCentric and ask your followers to follow us, too. Hit up Reddit, Tumblr, Google+, Instagram, Pinterest and so on!
That's the easy part. Here's the challenge: through our combined efforts in that single 24 hour period, let's bring our current Facebook fan numbers up to 20,000, and our blog subscriptions and Twitter followers up to 5,000 each.
Given the 10,375 Facebook fans we currently have and the 11,000+ unique visitors to this website every month, I believe these goals are very possible. In fact, just in case we breeze pass them halfway through the day, our stretch goals are double those numbers (10,000 each for Twitter and the blog subscriptions and 30,000 Facebook fans!).
We'll be publishing our progress every few hours or so in the Facebook party event and on the Facebook page and Twitter, and a couple of times throughout the day here on the blog. If each of you reading this brings just one person to each of those three platforms, we'll blow right through this challenge. So mark your calendars and get ready to help CatCentric make a difference!
---
If you enjoyed this post or found it informative, please "Like" it, "Tweet" it, or share it using any of the buttons below. And don't forget to check out our
FB page
, join the discussions in our
awesome FB group
and follow us on
Twitter
!