Bits 'n Bites: Environmental Enrichment, Estate Planning, and Declawing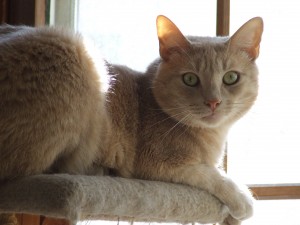 Here are some of the internet's most interesting and popular cat related articles and videos collected and shared during this past week. Enjoy!
(To see more fun videos, fascinating stories and adorable pics, just visit our FB page!)
11 January: 5 Ways to Catify Your Home, Even If You Aren't the Handy Type
A lighthearted, amusing review of how one woman made it her mission to "catify" her home for her beloved felines…
(One caveat – many cats would *not* do well being confined in a tent as outlined herein.)
11 January: Interactive Play Therapy
Some really excellent suggestions here! The only thing I would add is to feed your cat at least a treat at the end of your play session to mimic the end of a successful hunt. You want your cat happy and confident!
12 January: Declawing: Harmless Procedure to Owners, But Severe Torture to Cats
Declawing – or amputating a cat's last paw digit – is a painful, disfiguring practice illegal in over a dozen countries. In addition to the trauma inflicted upon the cat at the time of surgery, over 80% of victims suffer long-term consequences. If you're considering it, please read Dr. Becker's discussion first!
12 January: Bobcat really loves to snuggle.
Not sure why this cat is a pet instead of running free, but it's clear he is taken care of very well. And his affection for this young man is delightful to see.
How many of you have cats as demonstrative and demanding as this beautiful boy?
13 January: In-Depth Mojo: Buddha & Dylan – Cat Temples & Territories
This situation is a *great* example of the tremendous (but common sense!) benefits of approaching cats from the perspective of their natural needs… in this case, those of territory and diet. It might take some research and work to identify what specific need isn't being met when our cats fight, or hide, or pee inappropriately, but the payoff when we do is HUGE!
13 January: Testing for Retained Testicular Tissue in Neutered Cats with Urine Marking
Dr. Peterson is a renowned endocrinologist. I follow his blog, even though it can get technical and often addresses diseases I don't expect to see, because I find it just plain fascinating. I always pick up the oddest tidbits of information!
For instance, did you know that the barbs on a cat's penis are actually reabsorbed when the cat is neutered? That, in fact, the growth of these barbs is so sensitive to testosterone that vets use their presence – or lack thereof – to check the efficacy of a neuter?
If that's not a cool random fact, I don't know what it! LOL!
13 January: Should You Vaccinate Your Adult Cat for Distemper?
New studies continue to provide evidence of the unnecessary and dangerous nature of annual vaccinations.
"Dr. Hofve recommends not vaccinating your adult cat for distemper, and many holistic veterinarians agree with her. "A kitten that receives its initial vaccine series, or any kitten or cat vaccinated just once after 16 weeks of age, is protected for life," writes Dr. Hofve on Little Big Cat. "There is no benefit, and substantial risk, to repeated distemper vaccines in adult cats."
13 January: The pet food industry does not like your accurate statistics
Outstanding news! PetConnection – with the awesome Gina Spadafori and Christie Keith – is BACK!
This site was once THE place for on the mark, cutting-edged journalism and up to the minute information during the horrific 2007 pet food poisoning. If you remember them, you're as happy as I am. If you're new to the site, well… you're in for a treat!
Here's Christie's first post, and true to form, it's a humdinger.
14 January: Answers: Kidney Disease, Phosphorus and Raw Diets
Lyn Thomson gives us some pertinent and encouraging information on feeding cats with that most dreaded disease of all, renal failure.
Bottom line: A raw meat-based diet is the easiest to digest and contains the highest nutritional profile. Rather makes sense considering that's precisely what their digestive systems are built to process, doesn't it? ;-}
14 January: Raw Diet: The Perfect Pet Food That Helps Break Down Your Pet's Tartar
Dental disease is at near-epidemic levels in the feline population – it's estimated that more than 85 percent of cats over three years old are suffering from periodontal disease – and has far reaching health consequences.
Here, Doctor Karen Becker gives us the lowdown on promoting and maintaining oral health. Not surprisingly, a raw, meat-based diet – even in ground form! – is part of the solution.
14 January: Should You Leave Your Cat Home Alone While You're Away?
And in this post, Dr. Becker discusses the myth that cats can comfortably and safely be left at home alone for days at a time, and outlines some smarter alternatives, including hiring a cat sitter.
How do you care for your cats while you're away? Or do you, like so many of us, simply forgo vacations away from home?
15 January: Estate Planning for Pets: Provide For Your Cat in Case Something Happens to You
This is a great article on an important topic that is often overlooked!
"Nobody wants to think about becoming ill, incapacitated, or dying, but as responsible cat parents, we owe it to our cats to think ahead and make arrangements for their care in the event of death or any other emergency. Making arrangements before they're needed means peace of mind not just for you, but for family and friends who may not know what to."
16 January: How to Calculate the Carbohydrate and Protein Content of Cat Foods
One of the most important considerations when choosing among the near-infinite list of standard commercial cat foods is the carbohydrate content. Given that cats have no need for carbohydrates, eat less than 2% in their natural diet, and the consumption of this species-inappropriate macro-nutrient has been linked to several feline diseases – including obesity and diabetes – identifying products containing a minimal amount of carbs is vital. Unfortunately, at this time, the pet food industry is *not* required to provide that information.
So if you're shopping for a commercial cat food, how do you make an informed choice?
Enter Dr. Peterson, a renowned endocrinologist, with exactly the answers you need!
16 January: What is Environmental Enrichment and Why Does Your Cat Need it?
As feline behaviorist Pam Johnson-Bennett states, "Environmental enrichment is a necessity and not a luxury." Cats require vertical spaces, scheduled play times, and stimulating challenges to stay sane and stress-free. In this article, Pam, author of the exceptionally informative book, "Think Like a Cat", provides us with a nice little list of suggestions for turning our homes into cat-friendly environments.
17 January: Death by pet food
This is shocking. And unconscionable. And if just being around it is making the workers so ill, what the *heck* is this stuff doing to those family pets eating it day after day after day?!
"The employees reported an alarming number of health concerns: vomiting, seizures, and breathing difficulties, as well as problems with their kidneys and livers, all related to substances used in the manufacture of pet food and dog biscuits and possible exposure to aluminum phosphide, a highly toxic pesticide used to fumigate bulk pet food ingredients."
---
If you enjoyed this post or found it informative, please "Like" it, "Tweet" it, or share it using any of the buttons below. And don't forget to check out our
FB page
, join the discussions in our
awesome FB group
and follow us on
Twitter
!