Bits 'n Bites: Lion Footage, Cardboard Castles, and Vaccinations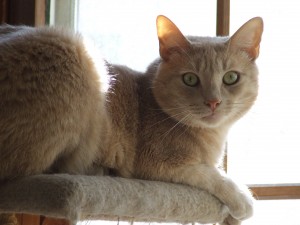 Here are some of the internet's most interesting and popular cat related articles and videos collected and shared during this past week. Enjoy!
(To see more fun videos, fascinating stories and adorable pics, just visit our FB page!)
4 January: South African Bro Captures Amazing GoPro Footage of Lions Because He's Best Friends with Them
When I see this kind of stunning footage, I see the heart of my beloved Ralph on full display. And it takes my breath away.
4 January: Let Them Eat Carcass
Some extraordinarily fine (high-level) points are made in this article. When are we going to stop forcing our own concepts onto our pets, and simply accept them as the carnivores they are?
Feed your cat a balanced raw diet – it's what she needs!
4 January: Aw! What an adorably affectionate tabby!
6 January: PhantomHD – Kitten in Slow Motion
For all our winter-bound fans… an incredibly lovely video of a kitten playing in the gorgeous, WARM, summer sun!
8 January: Man builds a cardboard castle for his cat.
Such a creative and thoughtful gesture! What homemade toys or entertainments does your kitty enjoy?
10 January: Amazing German Designed Cat Climbing Furniture
Educated cat owners know how much cats love to climb, and how important it is to provide them with elevated perches and "highways". Today, we have a wide range of modeling choices for our cats' furniture, including…
Bob Walker and Frances Mooney's wildly colored (ex-)home in San Diego
Asahi Kasei's more sedate but beautifully designed Japanese home
And these delightfully nature-inspired options from Germany!
How do you satisfy your cats' primal need for vertical space?
10 January: If You MUST Vaccinate, Aim for This Body Part
Seriously!
"I'm much less interested in which body parts are best for vaccine injections than I am in determining which vaccines an animal truly needs based on established immunity, age, lifestyle, and other factors."
10 January: The Dangerous Myths Many Cat Owners Believe
Dr. Becker is one of my favorite vets, and there is a ton of good info in this article!
10 January: Let's Do This!
The FDA is currently seeking input on proposed pet food regulations; now is the time to speak up! Take the five minutes and fill out the form – Susan Thixton has provided the link and the text. It couldn't be easier!
Let them hear our voices loud and clear!
(And share this widely, of course.)
---
If you enjoyed this post or found it informative, please "Like" it, "Tweet" it, or share it using any of the buttons below. And don't forget to check out our
FB page
, join the discussions in our
awesome FB group
and follow us on
Twitter
!