Women Who Still Love Cats Too Much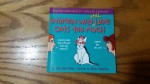 by Allia Zobel Nolan. Five stars!
Allia is an award winning author and, I'm proud to say, a friend of mine. I have a fairly extensive library of cat-related books, but they're almost 100% dryly factual and deal primarily with feline nutrition, health and general care, so when Allia offered to send me this book to review, I was delighted at the change of pace it would offer.
And Women Who Still Love Cats Too Much doesn't disappoint! It's stuff from cover to cover with hilarious and wonderfully illustrated vignettes that will delight the cat lover in all of us. Her witty little scenarios perfectly blend truth and humor, and you'll simultaneously laugh and cringe as each one hits home.
How fare would you go for your cat? Would you let your arm fall asleep or your bladder fill almost to bursting to keep from disturbing your kitty's afternoon siesta? Does your home contain more cat furniture than people furniture? Does your lifestyle revolve around your kitty's every whim? Do you make earrings and other jewelry from your cat's fur? Then this book is for you! (Ok, maybe the fur-jewelry is taking things a bit far.)
Or is it?  😉
This book makes an adorable little gift for your cat-loving friends, colleagues and family members for just about any occasion. Birthday's, holidays, Mother's Day (only two months away!)… this book's got you covered!
Purchase Allia's book by clicking here: Women Who Still Love Cats Too Much
.
---
Hiss and Tell: True Stories from the Files of a Cat Shrink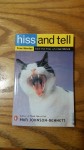 by Pam Johnson-Bennett. Five stars!
Have you ever read any of the "Chicken Soup for the Soul" books? They're full of pretty amazing, inspiring, and touching stories, right? Well, Hiss and Tell is a lot like that, only the stories all feature unhappy cat owners and mysterious feline behavior issues.
And they are freaking awesome.
Unlike the book above, I purchased Hiss and Tell for my own reading pleasure. And what a pleasure it was! I laughed, I cried, I guffawed and I read in awed silence as Pam Johnson-Bennett solves one crazy kitty conundrum after another.
There was the kitty who was as sweet a companion as one could want, except on Sundays when he attacked almost everything that moved. The kitty that chewed off all his fur for no discernible reason at all. The angel kitty (I cried a lot on that one), and the crazy cat that randomly attacked walls. One cat brought a married couple back together, while another spotted a cheating spouse.
It's just one truly delightful story after another! The only negative about this book is that it's entirely too short; the closer I got to the end (and I read this in a single sitting on a Thursday night), the slower I read in order to delay the moment I reached that final line on that final page.
Buy this book. I promise you won't regret it! Click here to get your copy: Hiss and Tell: True Stories from the Files of a Cat Shrink
.
---