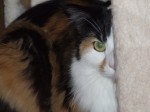 If you've spent any time on feline forums or Facebook groups recently, you've likely heard about the American Veterinarian Medical Association's (AVMA) proposed "Policy on Raw or Undercooked Animal-Source Protein in Cat and Dog Diets."
Initially, I was neither surprised nor unduly alarmed by the AVMA's action. I never believed the pet food industry (PFI) was going to take the growth of consumer awareness – and the subsequent shift in pet food profits – without fighting back. Most vets already vigorously advocate against raw, now they can say their professional organization does so as well… so what? Educated pet parents will continue to feed their pets healthy, species-appropriate diets and their passionate testimony will continue to convert more pet owners, who will spread the word even further. More sites like this one and PreyModelRaw.com will pop up and more personal blogs and Facebook pages will champion the truth about the benefits of feeding animals the foods nature intended for them to eat.
I didn't, however, anticipate that individuals on the other side of the fence would also take heart from the AVMA's support. Many raw feeding forums – once havens within which those who might be considering raw could ask their questions freely without fear of attack – are being invaded by folks championing this policy; others who were once quiet during discussions of the dangers inherent in feeding species-inappropriate products, such as kibble, have begun speaking out in defense of these terrible feeding practices.
That's unfortunate, but it also highlights a unique opportunity for those who want to help their family, friends and neighbors recognize the PFI's lack of integrity, the lengths they'll go to increase their profits, and the strength they wield in the regulating landscape.
The AVMA claims their proposed policy's goal is "…about mitigating public health risks, not about restricting or banning any products." Yet, they have no such policy against kibble feeding, despite the fact there have been dozens of confirmed cases of pathogenic-contaminated kibble sickening and killing people (128 in the last two years alone), but no such cases linking human illnesses with the feeding of raw foods to pets.
The AVMA states their discussion of this topic began when the Delta Society (an organization that works with companion animals for animal assisted therapy who has banned all raw feeding animals from their service) asked them if they had a policy on raw feeding. If this is the case, why isn't the AVMA working on a policy against kibble feeding? Here's some of what the CDC – an organization with far more authority and expertise than the Delta Society – has to say about kibble:
Salmonella from Dry Pet Food and Treats

Follow these tips to help prevent an infection with Salmonella from handling dry pet food and treats:

• Preferably, people should feed their pet in areas other than the kitchen.
• Wash pet food bowls, dishes and scooping utensils with soap and hot water regularly. Avoid washing these items in the kitchen sink or bathtubs to prevent cross-contamination. In households where there is no alternative, the sink area should be adequately sanitized after these items have been cleaned and removed.
• Infants should not be bathed in kitchen sinks because of the risk of cross-contamination.
It's pretty darn clear the AVMA's goal is NOT about mitigating public health risk. It is, in fact, all about supporting their partners and financial donors in the pet food industry.
Susan Thixton, author of Buyer Beware: The crimes, lies and truth about pet food. (the most comprehensive book of its kind), wrote that Brenda Bax, Marketing Director for Purina Pet Foods, was on the executive board of the Delta Society when they implemented their raw pet food ban (The Domino Effect). In addition, she traces several ties between the AVMA and the PFI's biggest players.
The AVMA's action has provoked intense discussion and galvanized both standard commercial and raw-feeding pet owners. This is a great opportunity for the critical thinking raw-educated; we can use the obvious duplicity of the AVMA's motive to increase public awareness of the PFI's lack of concern for our pets. We need to shake up the public's blind trust that the PFI has our pets' health at heart – because they don't, and their products are killing and sickening our beloved little friends.
Whether you believe in the common sense of raw feeding or not, this move by the AVMA is not in our pets' best interest. They are creating policies at the behest of the PFI, for their financial benefit and not the welfare our furry friends. I encourage all of you to speak out against the AVMA's policy. Send them letters (always be polite!), comment on their website, and sign petitions calling for its dismissal. Get involved. Regardless of what foods we feed, the AVMA should be fighting for the health of our pets, not for the PFI's greedy executives.
AVMA Headquarters
1931 North Meacham Road, Suite 100
Schaumburg, IL 60173-4360
Phone: 800.248.2862 Fax: 847.925.1329
AVMA Governmental Relations Division
1910 Sunderland Place, NW
Washington, DC 20036-1642
Phone: 800.321.1473, Fax: 202.842.4360
General email: avmainfo@avma.org
---