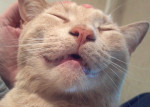 I'm back again after a two-month hiatus, and boy have I got a treat for you!
I am delighted to announce the recent launch of a very special forum – possibly even the first of its kind – dedicated entirely to raw feeding our carnivorous animal companions. Here you can discuss everything you ever wanted to know about the whys and the hows of providing your cat, dog or ferret with truly healthy, species-appropriate nutrition. Learn what a "thriving" pet looks like (hint: lots of energy, clear skin, clean breath!), get real-time support during the transition process, and share pictures of your beloved carnivore chowing down on her favorite dinner. Best of all, you can solicit assistance and advice from experienced raw feeders from all over the world!
Of course, you can also share stories and pictures of your furry friends just doing what they do best, whether they're cute and cuddly or wild and wooly. ;-}
Click to join the Raw Feeding forum today!
---