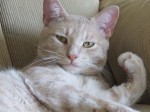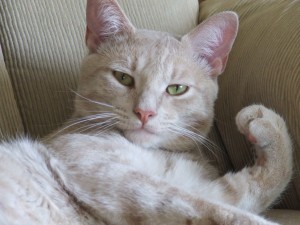 Absolutely! Adding a bite or two of fresh, raw meat to your canned-fed kitty's menu (hopefully, you've completely stopped feeding any type of kibble by now) is as healthy for your cat as adding a whole fresh apple or orange to your daily menu is for you.
It's also a great first step to familiarizing your kitty with the smell, taste and texture of raw foods. Whether you're buying whole fresh meats from your local grocery store or picking up a commercially-packaged ground meat mix from a specialty pet store doesn't matter. You can offer the meat as a treat in addition to daily meals, in the form of finger-tip-sized chunks of whole meats or rolled bite-sized ground meat mixes, or you can mix the meat right into the canned food meals.
The only two points to remember are:
1 — Don't feed more than 15% of the diet as plain raw meat unless and until you're ready to start balancing that meat with bone-in meals and organs.
2 — Always check to ensure the meat you buy hasn't been enhanced ("Enhanced" meats; more common than you might think.), as those spices can wreak havoc on a cat's digestive system. Watch out for taglines like "more flavorful," "juicier," and "enhanced."
---