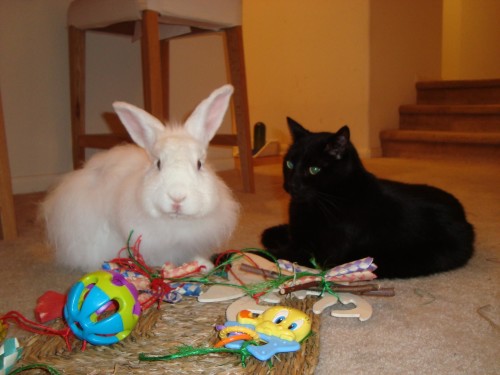 Join the CatCentric community for next week's "Ask the Expert" feature discussing the fascinating aspects of cats and rabbits cohabiting, hosted by several extremely knowledgeable and generous Licensed Educators from the House Rabbit Society.
Ever admired the softness of a rabbit's fur or watched in delight as one hopped its way across your yard? Ever wondered what it would be like to share your home with a domestic version of one of these delightful creatures? Would you love to adopt a rescue rabbit, but hesitate for fear your cat might not get along with the new family member? Might, in fact, try to eat him/her?
Well, now you can get all of your questions answered! By experts, for free!
Join us during the week of May 9th as your hosts Amy Spintman, Debbi Braunschweiger, Connie Cowan, Judith Pierce, Kristin Mettler Woodbury, and Mark Schnerle dish on all things rabbit and the intricacies of feline and lagomorph relationships.
We are very pleased and excited these wonderful folks have agreed to share their expertise with us, and look forward to a fun and fascinating discussion!
---
EVENT DETAILS
Title: A CatCentric "Ask the Expert" Session: "Rabbits and Cats: A dynamic duo or trouble waiting to happen?"
Description: A week long question and answer session hosted by licensed educators from the House Rabbit Society!
Location: Facebook! (Click to join the CatCentric group so you can participate in the Event!)
Time: 9 May, 8:00 am EDT, through 13 May, 10:00 pm EDT.
Share with everyone you know who loves cats and might be curious about rabbits!
---