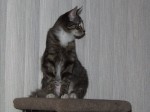 During the 2007 pet food poisoning that affected an estimated 30,000 to 50,000 animals, killing thousands, many pet owners became aware that our pets' foods, just like our own products, are actually owned and manufactured by only a handful of companies. Pet forums and chat rooms were flooded with vows to boycott products made by Menu Foods (America's largest pet food manufacturing company), while other pet owners targeted brand companies such as Purina and Nutro.
Choosing not to support a manufacturing or merchandising company by refusing to purchase its products for ethical or safety reasons is laudable, but is often a regrettably ineffective gesture. Many pet owners are unaware of the full range of products made by a given manufacturing company, and swapping one product for another owned by the same parent company still benefits the parent corporation's profit margins.
The question then becomes, how do we educate ourselves to ensure our shopping choices – if we want them to make a statement – do so?
I wish I could give you a simple answer, point you to a website that has recently compiled or updated a comprehensive list of pet food companies and their products; unfortunately, I know of none. To make matters more difficult, many of these companies refuse to divulge the manufacturing companies they use for their products, claiming "proprietary" information.
There is some information available, however, and I believe there is reason to hope for more transparency going forward. Thanks to the affect of hundreds of letters and emails, the slowly-growing weight of public opinion, and the tireless work of Susan Thixton of TruthAboutPetFood.com, seven pet food companies have created, or are in the process of creating, "Pledges" that publicly list and guarantee the quality and country of origin of every ingredient in their pet foods – precisely the kind of information pet owners have been pushing for since 2007. The companies offering this unprecedented transparency? Honest Kitchen Pet Food, Lucky Dog Cuisine, FreshFetch, Nature's Logic, People Fud, Raw Health, and ZiwiPeak. Hopefully, many more will follow!
There is also data available from the industry itself. According to PetFoodIndustry.com, the current top five American pet food companies – as measured by 2010 sales – are Mars, Nestlé, Colgate-Palmolive, Procter & Gamble, and Del Monte Foods, and these are their best selling products:
— Mars: Cesar, Greenies, Nutro, Pedigree, Royal Canin, Sheba, Whiskas, KiteKat, Chappi, and Catsan
— Nestlé: Kit & Kaboodle, Cat Chow, Kitten Chow, Dog Chow, Puppy Chow, Deli-Cat, Frosty Paws, Purina One, Purina Veterinary Diets, Pro Plan, Chef Michael's, Fancy Feast, Whisker Lickin's, TBonz, Busy, Beggin', Mighty Dog, Alpo, Moist & Meaty, Fit & Trim, Beneful, and Friskies
— Colgate-Palmolive: Hill's Science Diet, Hill's Prescription Diet, and Hill's Science Plan
— Procter & Gamble: Eukanuba and Iams
(Note: P&G also sells the Natura products Innova, Evo, Healthwise, and Karma)
— Del Monte Foods: Meow Mix, Kibbles n' Bits, Milk-Bone, Snausages, Nature's Recipe (Cat and Dog), Wholesome Goodness, 9Lives, Daily Essentials, Wholesome Medley, Pup-Peroni, and Farmstand Select
In addition, older information collected by various websites during the 2007 crisis is still available. ThePetFoodList.com compiled two lists that are outdated but still very useful: Foods for Cats and Dogs that includes verified product and manufacturing information on dozens of pet food companies, and a Manufacturers List covering eighteen American manufacturing companies.
Together, these resources should go a long way toward helping you navigate the clouded waters of the pet food retail and manufacturing companies. The nutritional quality of the foods you buy for your beloved felines should be of prime importance, but if you want your purchases to also make a statement to the pet food industry, you will need to be very resourceful.
(Of course, if you really want to make a statement to the pet food industry and – not incidentally – exercise complete control over the ingredients and quality of your kitty's foods, you will home-prepare and source those ingredients yourself! *wink*)
---