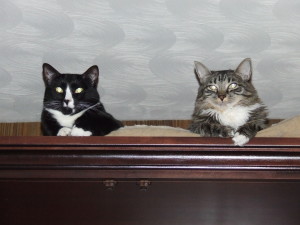 I am ever so tickled to admit that the CatCentric website and its Facebook page and group communities have grown to the point one person can no longer keep up with everything.
Thankfully, I know a lot of really awesome cat owners, two of whom have agreed to administer CatCentric's FB page and group communities, freeing me to concentrate more fully on the website articles and blog posts.
You should all be familiar with the wonderful Laurie Goldstein, who has written several of the articles on this site and even a blog post or two. She's been a highly valued friend and CatCentric partner for several years and I'm delighted she's now an "official" team member.
In addition to Laurie, I have asked Beth Laubenthal to be a part of the CatCentric team. Although Beth is new to writing, she has long had a passion for helping and advising cat owners and has been doing so for many years. Beth is the "mother" to five cats, two of which have inflammatory bowel disease (IBD). Raised with several as pets, she has a deep respect for their quirky ways and is committed to providing hers with the very best care. It comes as no surprise to those of us who know her that Beth was voted Most likely to become "The Crazy Cat Lady" by her high school senior class!
And here is Beth's very first article for CatCentric: The Origins of the Pet Food Industry!
– – – – – – – – –
A final note… CatCentric wouldn't be doing so well if it wasn't for all of you coming here every day, reading and sharing the information and articles. There are no words to express my gratitude. Your compassion and love for cats, your drive to learn all there is to know about their behaviors and needs and to provide them with everything they need to live happy, thriving lives is both humbling and inspiring. Thank you so much!
---