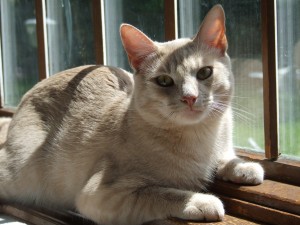 Today is one of CatCentric's favorite annual events. In fact, the entire team has voted to take the day off. (Anyone up for writing a note to my boss?  😉 )
Why are we so excited? Because today is National Cat Day, when America celebrates the total awesomeness of our cats and the country basically spends the whole day looking at cat pictures on the internet. What's not to love?!
In all seriousness, National Cat Day isn't just another day set aside for feline admiration and pampering. It was founded in 2005 by Colleen Paige as a way to raise awareness of the difficult plight and uncertain future of the vast number of stray and abandoned cats that end up in shelters all across the country, and the National Cat Day team and their partners create a variety of initiatives to increase adoption rates and get these kitties into forever homes.
Like this amazing #UberKittens project. For the third year in a row, the American Society for the Prevention of Cruelty to Animals (ASPCA) has teamed up with the good folks over at Uber to provide "Kittens on Demand," a service that delivers kittens to your address for 15 minutes of wonderful one-on-one snuggle time. The $30 fee is donated to the local shelters providing the itty bitty kitties, and if you're really smitten with a kitten, you can adopt the tiny furball. It's a triple win!
Last year, Kittens on Demand operated in 7 cities; this year, that number has exploded to a whopping 50+ locations. (Find out if YOUR city is on the list!)
Many other organizations also participate in annual advocacy efforts. The owners of the film company TheoryAnimation, for instance, have a soft spot for shelter cats and have created several animated films to help spread the adoption message. Like this delightfully amusing video…
There are many ways you, too, can help spread the message and get cats out of shelters and into homes, starting with, naturally, adopting a cat or two of your own if you don't have any. (Kittens should always be adopted in pairs.)
You can donate toys, blankets, cleaning supplies, etc. to your local shelter, support them financially, volunteer as a foster, or just spend time playing with and loving on their cats.
You can also take to social media. Tweet and share this post with the hashtag #NationalCatDay, and share pictures of your own kitties on Facebook, Twitter and Pinterest with the same hashtag.
And, of course, don't forget to give lots of loving to any kitties already in your family!
Happy National Cat Day, everyone!
(Tell us in the comments how you're celebrating and/or supporting cat adoptions today!)
---