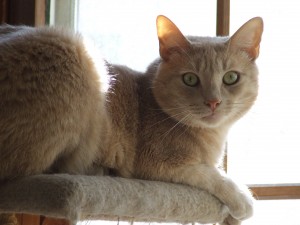 Here are some of the internet's most interesting and popular cat related articles and videos collected and shared during this past week. Enjoy!
(To see more fun videos, fascinating stories and adorable pics, just visit our FB page!)
17 March: Clicker Play For Cats
Some of you may hear about clicker training and think dogs. Did you know that clicker training has positive benefits for our kitties too? Is your new cat shy? Clicker can bring her out of her shell. You can use clicker training to teach a cat he name: click, call out her name and treat. If your cat is routinely bored, clicker training is a wonderful way to relieve that boredom and build a bond between you and your furbaby.
17 March: 7 Ways to Help Your Cat Through a Grieving Period
The loss of a family member – furred or otherwise – can cause grief for everyone in the family, including the cats. Marilyn Krieger gives us some good advice for nurturing and supporting a grieving kitty.
17 March: Happy St. Patrick's Day! Or should we say St. CATrick's Day? ;-}
How adorable is this kitten and his little leprechaun hat?!
18 March: From Helpless Newborn to Skilled Acrobat: Feline Development and the Orphaned Kitten
Mama cat teaches her kittens lots of boundaries in the first twelve weeks of life, and if you adopted a bottle baby or a kitten orphaned before then, there are many behaviors that may not have been learned.
18 March: This little sweetie wants a kiss from his "Momma" and won't take no for an answer.
Do your cats like to touch noses or give kisses?
19 March: Living With Cat Allergies
Is someone in your household allergic to cats? There are many ways to help relieve your allergy symptoms and allow you to keep your cat.
19 March: What is Whisker Stress?
Have you ever watched your cat go up to the food bowl and just stare at it? Does your cat pull food out of the bowl and eat it on the floor or counter? Your cat may have whisker stress!
19 March: Oreo the Armstrong Hotel cat back at home once again
Oreo, the cat that was catnapped from the Armstrong Hotel in Fort Collins has been found!
20 March: Why Do Cats Knead?

Have you ever wondered why your cat kneads your blanket or your lap? Is it because she loves you, or are you being marked as hers?
20 March: Hairballs: Species-Appropriate Treatment
Does your cat regularly cough up hairballs? It's uncomfortable for the cat and indicative of potentially serious digestive problems. Here's how to treat them while respecting the cat's carnivorous physiology.
20 March: More thoughts on Lux
And here is Sally Bahner, of Exclusively Cats, with the best write-up I've seen on this sad situation yet. It is so clearly *not* the cat at fault here.
Although Lux was dropped at the county pound this past Monday, word is cat behaviorist Jackson Galaxy has agreed to counsel the owners. Let us hope he is able to help them understand and work with him so that Lux may get his happily ever with his family after all!
21 March: The "Must-Have" Checklist for Solving Your Cat's Behavior Problem
From renowned cat behaviorist, Pam Johnson-Bennett, this checklist is a great place to start if you're having a behavioral problem with your cat.
21 March: Answers: What Exactly is an "Obligate Carnivore?"
Our cats are experiencing more intestinal problems, kidney disease and cancer than they ever have before, and we see recalls on kibble almost every month. But there is something we can feed our cats to keep them healthy. Species appropriate diets, meat! Cats have no biological need for vegetables, grains, or fruit.
21 March: Cat Comforts Patients at a Children's Hospital
Huck Finn has a very special job, working as a therapy cat in a children's hospital.
---