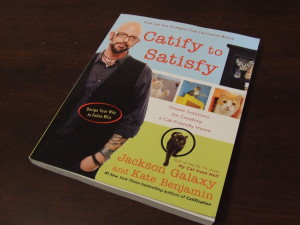 This is my first "official" book review and I'm super excited about it. I just recently purchased Catification: Designing a Happy and Stylish Home for Your Cat (and You!) and was blown away by the detail and amount of amazing information it contained. So when Kate Benjamin of Hauspanther, who co-authored the book with Jackson Galaxy of the show, "My Cat From Hell," asked me if I'd like an advance copy of their new book – albeit black and white and unedited – for reviewing, you can bet I jumped at the chance.
And Catify to Satisfy: Simple Solutions for Creating a Cat-Friendly Home doesn't disappoint. It's jam packed with fantastic solutions and cool innovations for addressing common challenges faced by cat owners everywhere. All the hot points are covered, including litter box designs, simple and effective scratching post ideas, "base camp" descriptions and importance, and, of course, some uber amazing superhighway catification projects.
With cat trees and simplified superhighways in almost every room of my house, I was sure I had the place pretty well catified, but after reading this book cover to cover (nearly in a single sitting!), I took a fresh look around to see what could be improved.
One of the first and easiest changes I made was the addition of a basket that my calico, Rachel, immediately claimed as hers. I also placed carpet pieces on shelves throughout the house, to reduce the potential for slips, and on a desk the cats routinely use as a landing/launching pad for travel to and from the shelves against the wall.
Although simple, these (and a few other modifications) were clearly well received by the cats. Catification doesn't have to be complex to make a difference!  🙂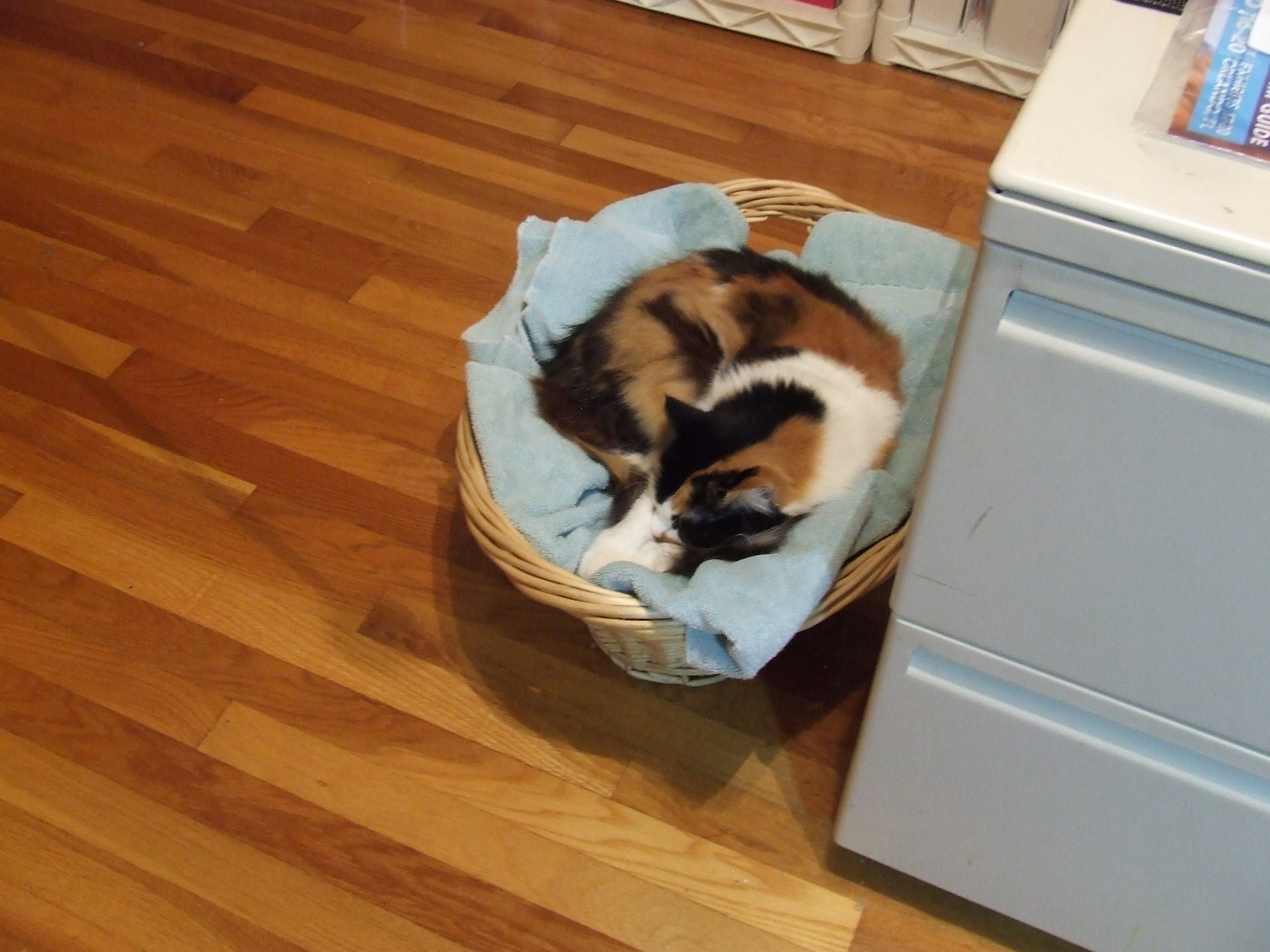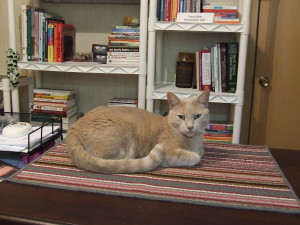 My respect for the authors of these books, especially Jackson, has tripled; the dude truly knows cats. And the writing! Oh, my God, the writing is beautiful! Clear, concise, flowing… what I wouldn't give to have my unedited work resemble this prose. And there is no overly sweet sentimentality on display, no anthropomorphism, just a wonderful understanding of the feline psychology and a deep and abiding love of cats.
Listen, my friends. If you enjoyed the first book, you'll absolutely love this one. And if you haven't bought the first one… what are you waiting for?! These books will radically improve your understanding and care of your beloved cat, and you will be pumped and full of ideas after reading either (or both) of them!
Catify to Satisfy: Simple Design Solutions for Creating a Feline Friendly Home will be available on November 14th, but it can be preordered from Amazon and other book sellers. And for every copy preordered (and sold via Jackson's book tour), the publisher, Tarcher/Penguin, is donating $1 towards improving the lives of shelter animals. How cool is that?
Preorderng also gets you exclusive discounts for Jackson Galaxy and Hauspanther products. A nice perk for purchasing a book you'll find yourself referring to over and over for years to come!
---