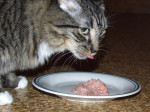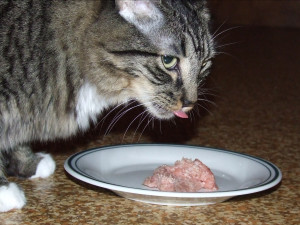 The questions I receive most frequently are related to transitioning a cat to raw. With all of the variables that accompany a transition, they are also sometimes the most difficult to answer.
Over the last couple of years, I've written several articles on feeding a raw diet, including three covering various aspects of the transition. I am pleased to announce that today, to facilitate the ease with which you can find these articles – and the answers you need – I've consolidated them on a brand new page called, Transitioning Your Cat to Raw.
This page also includes links to outside articles that cover topics such as working with kibble addicts and transitioning to a ground diet, and offers one of – if not THE – most comprehensive feline transitioning resource available online.
You're welcome. 🙂
In addition to the new page, I'm excited to introduce my latest article, Keep these four things in mind as you transition your cat to raw, in which I outline four key tenets for ensuring your transition is as stress-free as possible. If you haven't yet made the leap into raw feeding, this article should be the first one you read!
After all is said and done, however, the single most important piece of advice I can give to anyone trying to transition their cat is to just do it. I can write and write, wear myself out attempting to address every possible transition scenario, but at the end of the day the only way you're going to learn how to transition your cat is to jump in and do it.
So go, my friends, and start your research. Read the relevant articles. Take notes. But don't wait for some pure sliver of wisdom to suddenly appear and tell you exactly what you need to buy, from where and in what quantities to make your kitty's transition go smoothly. Rather, pick up a notebook and pen for your journal, go to the grocery store and get some chicken, and just do it!
---