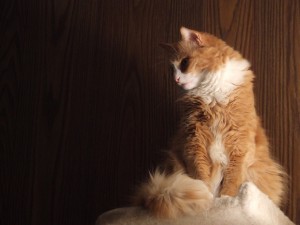 Today is the last day of CatCentric's fourth amazing year. And it has truly been one of marvelous change and growth. First, I took a three month sabbatical from all things cat related back in the early spring, the first time I've taken a break since 2006. When I returned to the fray in August, I took a break from several other hobbies I've been enjoying; primarily dance… I attended no more lessons and accepted no performance requests.
After some introspection, I came to the sad but liberating understanding that if I want CatCentric to really be all I know it can be, I have to stop spreading myself so thin and focus all my resources solely on it. So I gave up dancing and my other hobbies permanently.
And what a difference it has made! CatCentric has truly flourished over the last couple of months, adding a new article (The Problems with Pepcid and Other Antacids.) with quite a few more lined up, new pages (Canned Product: Ingredients To Avoid and Reporting Pet Food Problems), and a brand new Special Features section full of new features. I'm especially proud of the One Page Guides, including the brand new Raw Feeding Cheat Sheet and Raw Feeding Cats Pyramid!
Of course, regular followers will have noticed that blog posts are now a standard every Monday, Wednesday and Friday, with lighter fare every Saturday and the occasional "Sunday Sound-off", during which I share my opinion, no holds barred, on some topic about which I'm feeling particularly passionate.
And I am delighted and ever so grateful to be able to say that the engagement of CatCentric's readers has been wonderfully responsive, with the fan base growing across all our social media platforms. Which reminds me, my friends….
Click here to follow us on Twitter!
Click here to "Like" our awesome Facebook page, and don't forget to select "Get Notifications" under that "Like" button so you'll always know when a new page, special feature or blog post is published!
And click here to join the fastest growing, most compassionate and knowledgeable group of its kind in the Facebook environment! You won't be disappointed!
And, finally, click here to subscribe to CatCentric's brand new Youtube Channel!
But the biggest change this past year is the major face-lift the website received just a couple of weeks ago. The new theme is not only easier for me to use and customize – the site is now beautifully optimized for mobile viewing, something I'm very excited about. Given more than 78% of readers view the site through a mobile device, this should have a huge impact upon your CatCentric experience.
After all, that's what CatCentric is all about – you, and your cats. And to that end, I would very much appreciate getting your input before I settle on the site's final appearance. When you have a moment, please take a look around, check out the new pages, review the special features, assess the site layout, colors and functionality, and let me know – what do you like? What's missing? What could be tweaked and how? And, of course, how can we make your favorite parts better?
Thank you so much for staying with us on our journey to becoming one of the web's most complete and user friendly feline nutrition and general care resources! We couldn't do it without you!
---