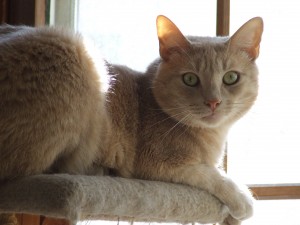 Here are some of the internet's most interesting and popular cat related articles and videos collected and shared during this past week. Enjoy!
(To see more fun videos, fascinating stories and adorable pics, just visit our FB page!)
3 February: Should You Microchip Your Cat?
I'm on the fence about this practice. On the one hand, it can help reunite escaped and lost cats with their owners. On the other, it's injecting an object that can become an irritant or, worse, trigger cancer.
What do you think? Are *your* cats microchipped?
3 February: 4 Signs of an Impending Diabetic Pet Emergency
The numbers of diabetic cats have been climbing steeply over the last five years, with no leveling off in sight. These cats require special care and regular at-home support. Here, Dr. Becker gives you the low-down on recognizing when that support isn't enough and your cat is about to experience a diabetic emergency.
3 February: How to perform a home health check for your cat
Performing regular health checks can detect any subtle changes early, such as weight gain or loss; lumps or bumps that may need attention; joint pain or other signs your kitty may need a vet visit. Here's information on how to do a home health exam. Do you perform home health exams? When was the last time you checked over your kitty?
5 February: Beware of Royal Canin "Anallergenic" Dog Foods with Feather Meal
Dr. Becker castigates the pet food industry's profit-driven practices and deceitful spin. If you don't read anything else today, read (or re-read) this!
---