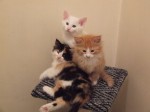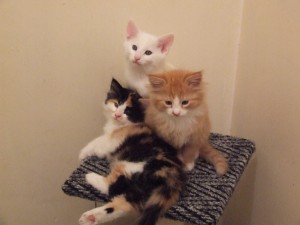 In just over three weeks, on October 1st, CatCentric will celebrate its very first anniversary. Most bloggers dedicate a single post to their anniversary on the day of, but I'm just too tickled to leave it at that. Not only has CatCentric allowed me to have a true, measurable impact on the lives of many cats – something I find extraordinarily satisfying – but all six of my own kitties were born in the September/October timeframe, and celebrating seven birthdays, as it were, is too big a deal to leave to just one post.
To mark this momentous occasion, I am hosting two contests. I am extremely delighted and grateful to announce that Holistic veterinarian and author Dr. Jean Hofve and Clinical Nutritionist and Animal Health Instructor Kymythy Schultze, C.N., C.N.C., have donated two very special gifts for these contests.
Dr. Hofve and Dr. Celeste Yarnell are the authors of The Complete Guide to Holistic Cat Care: An Illustrated Handbook, and Dr. Hofve is sending me a CD of that book, along with every e-book currently available on LittleBigCat.com.
Kymythy Schultze is the author of a trio of international best selling books, including Natural Nutrition for Cats: The Path to Purr-fect Health, and Kymythy has donated a copy of this awesomely informative book, complete with her personal autograph.
These are excellent gifts from two warm, wonderful, very well-renowned cat experts, and two of my favorite people. Both of these ladies donated more than I asked for, because that's just the kind of people they are.
In addition to the CD and the book prizes, each winner will receive a nifty Yeowww organic catnip toy. My cats absolutely adore Yeowww products and each of my furfaces is going to get his or her own catnip toy for their birthday on October 1st (and yes I'll be posting pics!).
So how can you get your hot little hands on these prizes, you ask?
Two ways – talk to me more, and spread the word about CatCentric and how it's helped you.
More specifically:
1. Whoever comments the most on CatCentric.org's blog posts between now and midnight Eastern time on September 29th is going to receive Kymythy Schultze's autographed book and one Yeowww organic Banana catnip toy.

2. Whoever refers the most people to CatCentric.org – i.e. is responsible for new website email subscribers – between now and midnight Eastern time on September 29th is going to receive Dr. Hofve's resource-packed CD and one Yeowww organic Rainbow Yeowww toy catnip toy. (Note: To participate in this contest, you will have to ask the new subscribers to send me your name as their referral person.)
You have to be an email subscriber with an American or Canadian mailing address for your comments to be included in the contest, and new folks are, of course, encouraged to play – the more the merrier. All comments are welcome, regardless of content, but please make it a real conversation, ok? I want to get to know all of you better! In the case of a tie, I'll randomly pick the winner.
All right, then, let the festivities begin!
Note: Post updated to remove Facebook promotion 09/09/12.
---