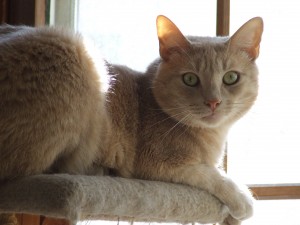 Here are some of the internet's most interesting and popular cat related articles and videos collected and shared during this past week. Enjoy!
(To see more fun videos, fascinating stories and adorable pics, just visit our FB page!)
3 March: How to Calculate the Carbohydrate and Protein Content of Cat Foods
Dr. Peterson, a renowned endocrinologist, answers one of the most often asked questions of all… how do we figure out the actual protein, fat and carbohydrate contents in commercial pet foods?
4 March: How to Manage Hyperthyroid Cats that Become Resistant to Methimazole
Is your hyperthyroid cat being treated with methimazole? Here's Dr. Peterson's take on using methimazole, and why it isn't his preferred long-term prescription.
5 March: Antibiotic Resistance: What's in it for me?
Antibiotic resistance affects us *and* our pets. Dr. Tony Johnson explains how "superbugs" are created and what we can do to minimize our chances of encountering one.
7 March: Attention-Seeking Behavior in Cats
Does your cat engage in a lot of attention-seeking behavior? Here's why, when it's too much, and what to do about it when it becomes obsessive!
7 March: Salty Dog and Salty Cat
Think AAFCO's "100% Complete and Balanced" stamp means the pet food product has what your cat needs… and nothing more?
Not even close! Take salt, for instance…
7 March: California man with 18 cats turns home into kitty playhouse
We talk a lot about environmental enrichment here at CatCentric, but I don't think any of the team members envisioned such an elaborate environmental makeover as this California cat-loving man designed for his 18 feline friends!
---