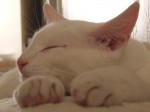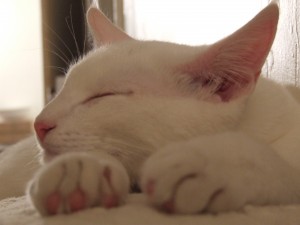 Today, this site is officially a year old. It has been an amazing and sometimes tumultuous 12 months. There's been a few starts and stops, some lessons learned and one heck of a lot of incredible growth.
CatCentric's conception occurred around 2:00 a.m. one quiet morning last August. After advising cat owners on feline nutrition and behavior primarily through online forums for several years, I had recently made a couple of failed attempts to collaborate with other feline education entities in an effort to reach a broader audience. I'd spent that particular day in research and thought, wondering where to go from there. Tired, but with no resolution, I had just settled down to get some sleep when it hit me, I would start my own site and I would call it CatCentric! Electrified, I leaped out of bed and dashed to the computer to see if the CatCentric.org domain name had been taken; it had not and I bought it right then and there.
The rest you know. ;-}
I want to take this day thank everyone who has helped CatCentric reach this point. People like Brandon Luchak, the site's webmaster and a true Godsend. Without his unsought, unexpected and wholly voluntary efforts to bring my vision to life, this site would never have moved beyond the concept phase. A young man in college four timezones away from me, he has been tireless in his efforts to keep up with site issues and new requests from yours truly.
Laurie Goldstein, a feral cat advocate who was quite certain I was dangerous and possibly slightly mad with my talk of raw feeding, has become one of my best friends and staunchest supporters. An incredibly detailed and focused researcher, Laurie's insight and unwavering support ensured that my stumbles over this past year didn't become permanent derailments.
Of all the experts I've contacted in my research and outreach efforts, two stood out in their willingness to answer my questions and offer guidance. Dr. Jean Hofve and nutritionist Kymythy Schultze didn't know me from Joe the Plumber, but responded with eagerness and warmth to my initial contact, and have never failed to give of their time and expertise since then. Their generosity and kindness stands as an example to us all.
Finally, and most sincerely, I'd like to thank every single cat owner who has trusted the common sense of species-appropriate feeding – despite all the hype to the contrary – and did whatever was necessary to begin feeding your kitties a truly nutritious diet. Through your faith and perseverance, lives have been saved and health has been restored. This site exists for you and for them! ♥
– – – – – – – – – – – – – – – –
Oh, I almost forgot! The winner of BOTH contests is Erica DeWaard! Erica truly went out of her way to participate in these contests and deserves her prizes. Congratulations, Erica!!
---