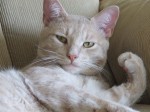 You and your kitty seem to get along really well, except for that one weird little thing – every time she hops up on your lap, she greets you courteously but then promptly turns around and flourishes her booty in your face, tail held high and proud.
So not cool, right?
Wrong!
Cats have glands all over their bodies, including at the base of the tail and to either side of the anus (called, appropriately enough, anal glands). These glands contain scents that are unique to each cat and can communicate a multitude of concepts, including identity, age, sexual status, health, and diet. Letting another cat have this much information puts your cat in a potentially vulnerable position, so she will only allow family members (four-legged or otherwise) with whom she's comfortable to have access to the info. When she turns her back on you, your cat is actually saying she trusts you.
Combined with a raised tail – cat language signalling non-aggression and a willingness to interact – your cat's behavior is akin to a hug from a family member or close friend. She would probably take it right kindly if you gave her a gentle scritch just above the base of her tail in return for her display of affection.
---