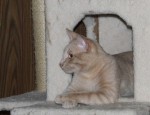 Several days ago, I wrote that the AVMA's upcoming vote on their anti-raw food policy was a chance for educated, caring pet owners to come together and take a solid stand in support of our freedom to choose what to feed our pets. I encouraged cat and dog lovers of all walks of life to contact the AVMA in opposition to their proposed Policy on Raw or Undercooked Animal-Source Protein in Cat and Dog Diets.
Since then, I've watched as the AVMA's blog post "explaining" the rationale behind their policy climbed to nearly 1,000 comments (most in support of raw feeding), and the petition against the AVMA policy pass 3,000 signatures.
Dr. Becker, one of my favorite vets, weighed in with her URGENT: If You Feed Raw or Plan to in the Future, PLEASE READ THIS in which she details some of the connections between the veterinarian profession and the pet food industry, and then goes on to give a chilling account of the potential consequences should the AVMA approve this policy.
Dr. Hofve wrote an incredibly detailed, study-based post that completely destroyed the AVMA's claim that raw-feeding poses any real danger to pet owners and their families: AVMA vs Raw Food: Action Alert!
Answers, a raw pet food company, publicly posted a letter to the AVMA on their Facebook page that, among other issues, questioned the legality – and ethics – of the AVMA's policy in light of Illinois' licensed Not-For-Profit Organizations guidelines.
And of course, Susan Thixton followed up on her initial post with two more highlighting the financial links and partnership programs between the AVMA and big pet food manufacturing companies like Purina: The Domino Effect and The AVMA Plot Thickens.
There are many others in the feline blog-o-sphere talking about the AVMA's proposed policy, including professional feline writer and CatCentric friend Sally Bahner of Exclusively Cats and raw feeding veterinarian Dr. Peter Dobias. Every blog post and article I've come across has been part of a huge grass-roots effort to get pet owners informed, fired-up and active in this discussion. We must make the AVMA and, by extension, the pet food industry, respect our desire for improved nutrition and start putting the health of our pets ahead of any other considerations.
If you haven't signed the petition against the AVMA's policy, please take a few seconds to add your support: American Veterinary Medical Association (AVMA): Protect pet owners' rights to feed a raw meat pet food.
You can also add to the 900+, primarily pro-raw comments on the AVMA's website: The Facts on AVMA's Proposed Policy on Raw Pet Food Diets.
Finally, you can email the AVMA directly: avmainfo@avma.org (Subject Line: AVMA Council on Public Health and Regulatory Veterinary Medicine).
The meeting is next week – NOW is the time for pet owners to speak up in opposition to an AVMA that puts the profit margin of their big pet food manufacturing friends ahead of the well-being of their clients – our beloved cats and dogs!
---