National Pet Memorial Day: Remembering Ollie.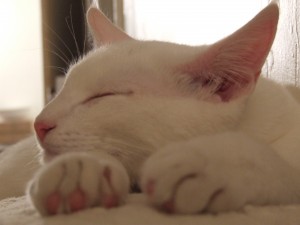 Since 1972, National Pet Memorial Day has been recognized on the second Sunday of September as a time for remembering beloved pets who are no longer with us.
That day was yesterday, and I spent it alternating between cuddling my cats and updating this website.
And, of course, remembering Oliver – killed by the food I fed him during the 2007 pet food poisoning massacre – just as I remember him every day. Barely six months old, his passing was a painful and completely senseless tragedy that changed my life profoundly.
Oliver was the most laid-back, charismatic cat I'd ever met. Very little flustered him, not even my little Yorkie frantically barking out a warning when visitors knocked at the door; Ollie would acknowledge the disturbance with nothing more than a flick of his ear. The only thing he really paid attention to was his food and his siblings; he was constantly cuddling with and grooming them. Oliver was the biggest of the four, snow white and very elegant. And he loved giving kisses – he'd walk right up to my face and touch his nose to mine, then give me a lick. It darn near brought tears to my eyes every time he did it – and just thinking about it still does.
It's possible CatCentric would have been born without the impetus of Ollie's loss, but my efforts would have lacked the depth of conviction to which the sorrow at being a participant – however unknowingly – in his painful death led me.
Nothing will ever make Ollie's death justifiable. No amount of railing at the pet food industry's greed and lack of ethics, no number of kitties I directly or indirectly have a hand in helping back to health, no heartfelt and tearful thank you's from grateful cat owners – as touching and inspiring as they are truly are – will ever make his ending a 'worthwhile sacrifice'.
But since I can't change the past, it is only fitting I harness my sorrow and anger and bend my resources towards the future. With every article I write, with every post that gets shared, with every tweet that gets sent on the critical importance and true definition of healthy feline nutrition, I help ensure fewer owners will have to experience what I experienced, and fewer cats will suffer the maladies and deaths associated with the poor quality products foisted on us by a largely uncaring pet food industry.
Yesterday, I spent the day making this website user friendly for mobile device visitors and hugging Ollie's brother and two sisters. I also spoke to two young ladies at Dunkin Donuts and a mother of three at the grocery store about feline nutrition, and shared their excitement at an opportunity to do something good for their cats. I think Ollie would be pleased that's how I spent a day marked for remembering our beloved pets.
---
If you enjoyed this post or found it informative, please "Like" it, "Tweet" it, or share it using any of the buttons below. And don't forget to check out our
FB page
, join the discussions in our
awesome FB group
and follow us on
Twitter
!