Adopting a kitten? Why two are better than one!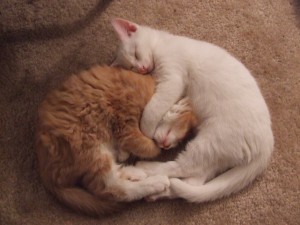 This is new team member Kim St. Pierre's first guest post. Enjoy!
Thinking of getting a kitten? Adopting is always an exciting time, but remember kittens can be a handful, with tonnes of energy and curiosity. They will get into mischief, jump all over the furniture, chase, tackle, attack. One thing you may not have considered is bringing home two instead of one. Here are several reasons two kittens is simply better than one.
---
If you enjoyed this post or found it informative, please "Like" it, "Tweet" it, or share it using any of the buttons below. And don't forget to check out our
FB page
, join the discussions in our
awesome FB group
and follow us on
Twitter
!