August's Facebook News Round-up!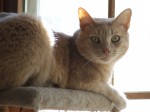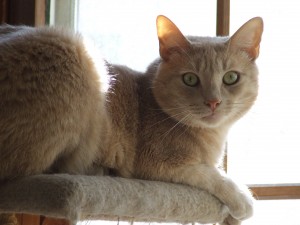 In case you missed any, here are the stories we discussed in August. Please note that with the increased Facebook activity, only stories related to CatCentric.org's categories are listed; to find the feel-good stories, awesome wild-life happenings and adorable pics, you will have to visit CatCentric's Facebook page!
2 August: 'Rabbit fever' disease could affect pets
Need another reason to keep your kitties safely inside? Take a look at this!
3 August: A review of the AVMA's proposed policy against raw food
An exceptionally objective, detailed and well-written review of the AVMA's proposed anti-raw feeding policy and – even more importantly – the policy the AVMA *should* be embracing.
Today is the day they vote on this proposal. Let's all hope and pray they do the right thing by our pets. ♥
3 August: House of Delegates Wrap Up: The Vote on the Proposed Raw Animal-Source Protein Policy (Resolution 5)
Today is a sad day for America's pets.
With no science to back up their ridiculous claims – in fact, the very opposite – and with the avowed but absurdly incongruous goal of protecting the health of this great country's pet-owning citizens (isn't that what we have the CDC for?), the AVMA crafts and approves a policy profitable to their friends in the pet food industry but profoundly detrimental to the health of their true clients… your pets and mine.
6 August: Why is Chronic Kidney Disease Common in Domestic Cats?
Dr. Becker thoroughly describes kidney disease, its causes, symptoms and treatment.
She begins her conclusion with, "Since kidney disease is a leading cause of death for housecats but not for wild cats, we must ask why feline renal failure in domestic cats is at epidemic proportions."
One guess why that is, my good friends?!
17 August: Questions and Answers Regarding Jerky Pet Treats
The FDA has begun testing on duck and sweet potato jerky treats due to consumer-reported pet illnesses. This is in addition to the chicken jerky treats they've been testing since 2007.
And all the while, pets continue to die. Way to go, FDA.
18 August: Survey shows pet owners seek health, nutrition info online
"The data showed that 42 percent of pet owners spend more than 30 minutes per week reading about or researching pet-related topics. … Pet bloggers and online information sources are becoming recognized as authoritative sources for information on pet care, meaning that veterinarians are increasingly sharing the center stage in providing pet care information."
Think this might be why the American Veterinarian Medical Association and their multimillion dollar pet food industry sponsors are running scared?
18 August: Over-The-Counter Products You Shouldn't Use on Your Pet
A few of the more common over-the-counter products you should never give to your four-legged family members. Heading that list of potentially deadly but common meds? Ibuprofen and aspirin.
18 August: AAHA passes raw statement.
Another veterinary organization joins the AVMA in their witch-hunt against feeding our pets the very foods evolution designed them to eat.
I'm still blown away by the egregiously disingenuous claims made by these raw feeding antagonists. It's perfectly ok for people to buy and prepare raw meat for their own families – children and elderly included – but not to do *exactly* the same for their carnivorous pets? People are encouraged to eat fresh, whole foods, but the only healthy foods approved for our beloved pets are more heavily processed than anything ever served to us?
How these people can spew this ridiculous and nonsensical rhetoric without choking on it is beyond me.
18 August: Pet treat investigation expands beyond chicken jerky
More information about the expansion of testing done on China-sourced pet jerky treats.
The FDA states it's received over 1,300 complaints about these treats, including related deaths; since very few folks actually file reports, the actual number can, sadly, be safely assumed to be much higher.
It's painfully clear that neither the FDA nor the companies manufacturing these products give a damn about the pets suffering and dying from eating them, so it's up to consumers to take the necessary steps. Please share this information as far and wide as you can to stop the purchase of these toxic jerky treats!
19 August: CPG Sec. 690.700 Salmonella Contamination of Dry Dog Food
Here's a 1980 FDA case study I picked up from Mollie Morrisette. You know what I find most fascinating about this?
First, pet owners have been infected by contaminated kibble going back a whole lot further than I knew or would have guessed. And second, the pet food industry tried to claim that kibble could not be manufactured free of contamination by pathogens.
Let me repeat that.
Kibble manufacturers tried to make the case that kibble contaminated with potentially deadly bacteria was unavoidable and the risk level of human cross-contamination was acceptable.
If they thought Salmonella contamination was justifiable in their own products that far back, why is it suddenly such a huge human health concern in raw food products today?
19 August: Pea proteins: Alternative protein source for petfoods?
Some interesting take-aways here, but the most important, I think, is the pet food industry's effort to continue avoiding the use of meat as a protein source by seeking out cheaper "novel" sources whose negative properties are not yet well-
known by the pet-owning public.
Hopefully, all of you have long-since stopped feeding dry kibble, but if you're still buying canned foods – or even some commercial raw blends – watch out for the addition of pea fiber, starch or protein. The digestibility of pea starch and protein is even *lower* than that of grains such as corn and rice, and the relatively high levels of insoluble fiber and indigestible oligosaccharides will likely increase stool size and quantity and cause gas (all of which are uncomfortable and unhealthy for the cat, and not very welcome by the owner).
Keep your eyes open, my "discerning pet-owner" fans, and share this information with your cat-loving family members and friends!
19 August: China Sneaks its Chicken in on Man's Best Friend
An informative article detailing the history of China's chicken exporting relationship with the U.S. and how that relates to the jerky treats that have sickened over 1,300 American pets.
20 August: Pets Best Debuts Feline Illness Insurance Plan
This new entry-level plan for cats from Pets Best Insurance starts at under $4 a month and covers up to $10,000 over the life of the cat.
22 August: Why Dry Food Is Not A Healthy Diet For Cats And Dogs
Here, Jodi Ziskin, Certified Pet Nutrition Consultant (with a Master of Science in Holistic Nutrition), and Dr. Patrick Mahaney, D.V.M. and Certified Veterinary Acupuncturist (CVA), discuss why kibble is such an unhealthy diet for our carnivorous little family members.
We are a very long way from a consumer-wide understanding of this topic, but with every article, interview and video, we get one step closer. Remember to share this information with all your friends and, hopefully, we can reach one or two more cat owners today!
23 August: Is it Something My Pet Ate?
A letter from the Director of FDA's Center for Veterinary Medicine detailing exactly what to do – and what not to do – when your pet has been sickened by a commercial pet food.
This is good, solid advice and includes the steps to take to report the incident to them for tracking, investigation and possible FDA action.
23 August: 5 ways to find a vet who really knows cats (it could save your cat's life)
Need a vet who has a better understanding of feline needs? Here are five tips to help you find one.
And here's a sixth tip: Ask how the vet stands on raw feeding. If they recommend and sell prescription diets and caution against raw, keep looking!
24 August: When it Sucks to be a Cat
Does your kitty nurse or suck on herself?
Dr. Rich Goldstein guest blogs on Cat Wisdom 101 (by Layla Morgan Wilde, a holistic cat behaviorist), and discusses the reasons for self-suckling behavior and several different ways to address it.
24 August: Seizures and Hyperthyroidism in Cats: What's the Correlation
Dr. Peterson, my favorite endocrinologist, discusses the link between Hyper-T and seizures.
I cat-sit for a dear friend with a gorgeous 19 year old calico who has Hypter-T, but except for some muscle wasting (I can't convince her to switch to raw!) and stiffness, her Indy is doing well.
Are you caring for a cat with hyperthyroidism? Does your kitty suffer from seizures?
25 August: Laser Treatment in Veterinary Medicine
Dr. Becker in an interesting review of laser therapy for pets; what it is, and isn't, and how it's changed over the years.
25 August: Shop Online and Help Homeless Pets Find Shelter
This is a GREAT initiative and participating merchants include Amazon.com, Petsmart and Target!!!
Please pass this along to all your friends, whether they have pets or not, and remember – if you're going to shop online, go through AdoptAShelter.com and help a homeless pet!
25 August: High Protein, Low Carb Diets: Key to Management of Obesity
Is your kitty carrying a few extra pounds? Dr. Peterson explains how today's typically high-carb, low-protein commercial diets result in low muscle mass and a whole lotta fat storage.
Say it with me, my friends, "Feed your kitty a balanced, wholesome, raw meat diet!"
25 August: Cats and Nutrition: Some Key Nutritional Facts
A short, but concise, explanation of what it means to be an "obligate carnivore" from a metabolic aspect, including, of course, the requirement for animal-based protein in the diet and the many metabolic reasons cats can't digest and shouldn't be fed carbohydrates.
26 August: Planning for Pet Care When You're Gone
Do you know who will care for your cats if something happens to you? Are your furchildren included in your will?
Dr. Becker addresses this uncomfortable subject in her typically detailed and straightforward manner.
26 August: Another Pet Food Filler Ingredient Revealed: Pea Fiber
I've addressed the low nutritional value of peas and the pet food industry's use of this innocuous-sounding carb as a replacement for the much-maligned (and deservedly so) grains.
Here's Dr. Becker's take on it, "It's a filler and high in insoluble fiber. Neither 'fillers' nor high fiber ingredients are part of a balanced, species-appropriate diet for dogs and cats."
'Nough said!
26 August: Does Your Kitty Need "Preventive" Cat Food?
Although feeding wholesome, fresh, species-appropriate diets is becoming ever more widely accepted, the vast majority of pet owners are still feeding standard commercial products to their beloved kitties.
For those CatCentric.org readers feeding canned foods (none of you are still feeding kibble, right?), this article will help you evaluate some of the more ridiculous marketing gimmicks the pet food industry throws at oft-times unsuspecting consumers.
26 August: Treatment and Prevention of Heart Disease in Cats
A detailed article on the definition, symptoms, treatment and prevention of feline hypertrophic cardiomyopathy (HCM), the most common type of heart disease in cats.
One major step in prevention? Feeding a wholesome, fresh, species-appropriate diet!
"This condition, in my opinion, is rooted in Nutrigenomics. Nutrigenomics is the study of how foods can upregulate or down regulate gene expression. Because amino acid deficiency (a dietary shortage of meat-based protein) can fuel this condition, I strongly recommend all my patients consume a human-grade, meat-based diet, and eliminate all fillers such as grains and unnecessary carbohydrates that cats don't need in the first place."
Since the majority of America's cats consume processed high-grain, low-protein kibble day in and day out, I think it's pretty clear why this disease is so prevalent.
27 August: Feeding Your Senior Pet
This article discusses how not to feed your elderly pet based on clever advertising. I love the last paragraph!
How many of you have senior pets? My oldest cats will be celebrating their sixth birthday in less than a week, so no seniors here!
27 August: Safe Household Cleaners for Homes with Allergic Pets
Some awesome tips for cleaning your house without harsh or allergy-provoking chemicals that could harm your kitties.
I'm totally taking notes! ;-}
27 August: FDA responds to letter from US animal feed, ingredient, grain groups
Not good.
US grain, animal feed and feed ingredient processing organizations get an indefinite extension on the FDA's July 3rd hazard analyses and preventive controls implementation and January 13th (2013) foreign supplier verification procedures implementation requirements.
27 August: AVMA governance goes under the microscope
Check this out! The month before the AVMA met and almost universally approved their new anti-raw policy, they kicked off a year-long process to restructure the governance of their organization.
And, 'though non-members have no direct votein this process, we CAN make a difference in the outcome. Every one of us needs to talk to our AVMA-member vet and ask him or her to please consider the health and welfare of their clients as they review the proposed governance models, and then vote for the model with the *least industry influence*.
In fact, don't limit yourself to just your vet, call every veterinarian in your phone book! And share this info so that others may, too.
We have another chance here to be heard, let's make sure our voices are loud and clear!!!! The only protection our beloved kitties have is US!
27 August: Does Your Pet Have Seasonal Allergies?
Did you know your cat can suffer from seasonal allergies just as you do?
28 August: A Healthy Immune System Helps Lessen Your Pet's Cancer Risk
An eye-opening read on the link between pet nutrition, obesity and cancer.
28 August: New Lifesaving iPhone App for Pet Owners
Has your kitty ever gotten into meds that didn't belong to him, or scarfed down a handful of chocolate chip kisses? How long did it take you to find out if what he ate was dangerous?
Now an awesome new app created by Pet Poison Helpline puts emergency pet poison information of this sort right at your finger tips!
29 August: Detect Areas with Parasite Infection through Online Maps
What a helpful resource! The Companion Animal Parasite Council (CAPC) has a newly redesigned website for pet owners featuring a set of maps that contain information on parasite prevalence in a specific area. This will be added to CatCentric.org before the night is out! ;-}
29 August: Is Your Cat Missing Her Litter Box?
This is a must-read for every cat owner!
Dr. Becker describes some of the primary reasons cats begin eliminating inappropriately, and gives you the solutions you need to help stop or prevent such problems altogether.
My bunch usually get along pretty well, but with so many different purrsonalities, I have to stay alert to rising stress levels and potential kitty litter box issues.
Something that Dr. Becker doesn't mention, but I've found to be very effective at keeping cats happy, is super-sizing the litter boxes. Mine are all a touch under three feet long, a foot and a half wide and a foot deep, and each contains 84 pounds of litter.
Do you have a cat that sometimes misses the box? What have you found effective at keeping accidents to a minimum?
30 August: Prominent scientists sign declaration that animals have conscious awareness, just like us
This is fascinating and, I think, long past the time it should have been recognized and acknowledged.
30 August: Feline Chlamydia Causes Pink Eye in Cats
Are your kitties eyes red and inflamed? Check out this information on the most common cause for "pink eye" in cats.
30 August: Feline IBD Causes Vomiting and Diarrhea in Cats
IBD is a serious health issue that afflicts hundreds of cats. Although there may be other factors involved, it is centered around an unhealthy, inflamed digestive system and is, most believe, caused by kibble feeding.
Almost invariably, switching to a balanced, fresh raw diet will alleviate IBD symptoms and begin restoring health and normal function to the digestive tract.
In this article, Dr. Becker recommends a long, slow transition to raw, but some IBD cases are critical enough to warrant a quicker switch and others simply don't require such a delicate approach. Some cats will completely recover once they're eating the proper diet, others may never return to full health.
IBD cases should always be handled with careful attention, as each is unique!
30 August: Atypical Hypoadrenocorticism In A Cat
It might be a bit strange, but I always find feline case studies fascinating. Here's one describing the serious reaction of a kitty that was abruptly taken off megestrol (a drug that, apparently, she should never have been on to begin with).
Have any of you had any experience with megestrol? Did your kitty recover?
30 August: AVMA: Fairness to Pet Owners Act 'dead'
"HR 1406, titled The Fairness to Pet Owners Act of 2011, is "dead," said Dr. Mark Lutschaunig, director of the American Veterinary Medical Association's (AVMA) Governmental Relations Division in Washington."
Basically, this is a fight to legally require veterinarians to write scripts for pet meds that can be filled elsewhere. Veterinarian associations are against it, large retailers who want in on the profitable pet med business are for it.
Does your vet force you to buy meds from his office, or write a prescription that allows you to have it filled elsewhere?
31 August: Triclosan used in hand soaps may impair muscle function
Holy smokes! This chemical is nearly ubiquitous in our households!
Thank goodness I'm slowly replacing all my cleaning products with the greenest, least toxic substitutes I can get my hands on!
Have any of your pets ever been diagnosed with a toxic reaction to a cleaner or other household product?
31 August: Cat-friendly cleaning products
Speaking of non-toxic, pet (and people!) friendly cleaning products, here's some timely advice from Ingrid King.
Hmmm, I think it's time CatCentric.org created a cat-friendly cleaning products' page!
31 August: Illegal for Prisoners, Ok for Pet Food Consumers
"Because of FDA Compliance Policies, millions of pet food consumers are purchasing adulterated foods without their knowledge."
Susan Thixton, the leader in the consumer charge to change pet food industry practices for the better, reveals a
n "oopsie" shipment that illustrates how rotten the quality of the food products the vast majority of pet food manufacturers use.
Just one of the many reasons the CatCentric clowder eats only wholesome, fresh meats, bone-in meals and organs, and why I so strongly recommend the home-prepared raw feeding practice to all cat owners.
31 August: Never Let Your Pets Get Fat, Give them a Healthy Diet!
Dr. Becker explains the link between obesity and several chronic diseases, all of which are on the rise as our pets continue to pack on the pounds.
If your cat is overweight and not suffering from a related ailment, it's only a matter of time before she will be. Your best, most effective preventive step? Feed her a wholesome, balanced raw meat diet!
31 August: Omega-3 in Krill Oil May Help Heavy Pets Lose Weight
Speaking of weight loss, there are additional tools in our arsenal for helping that fat cat slim down, and Omega 3 supplementation is one of them.
31 August: "Little Things Can Cause Your Pet Big Pain"
Dr. Marty Becker reminds us to pay attention to the little things that may be the only signs our stoic little cats are in intense pain.
---
If you enjoyed this post or found it informative, please "Like" it, "Tweet" it, or share it using any of the buttons below. And don't forget to check out our
FB page
, join the discussions in our
awesome FB group
and follow us on
Twitter
!