Q&A: My cats keep running off with the food; help!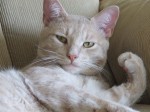 You've taken the first step, successfully switched your beloved felines to commercial raw and seen all the usual benefits – softer, shinier coats, less volume and odor in the litter box, and most important of all, more active, sociable kitties. Now you'd like to take it up a notch, exercising more control over your cats' diet and taking advantage of the oral health benefits inherent in frankenprey and whole prey diets. So you swapped their commercial ground dinner for one of whole meaty chunks.
And ran into an unexpected problem – your sweet little kitties are now growling and running off with their dinner to savage it in private under your couch or in the corner of your living room on your favorite rug!
You want to make this switch to frankenprey and you love that they enjoy their food so much, but you can't have bloody beef chunks and juicy chicken bits dragged all over your home. What to do?
There are a few ways to manage this problem. First, this usually happens when there are multiple cats and is just an attempt by them to protect their high-value foods. Trying to keep a cat from doing as his natural inclinations dictate is not a fight that's worth pursuing, so yelling or otherwise trying to "correct" the behavior is ineffective (yelling is counter-effective with cats anyway). Separating them by levels and / or distance is the first step and is often all that is needed to make them feel secure enough to eat where you put them, especially if they are out of line of site from one another. Feeding one or two cats on a table and another cat or two under it often works well, as does feeding cats on opposite sides of the room.
Alternatively, you can crate-train your runaways for meals, which has several benefits beyond keeping the cats from dragging food off to hidden corners. The added feeling of security felt by a crated cat will soothe those who are skittish eaters and encourage them to take their time and finish their meals, and cats who eat too fast will often slow down once they no longer feel threatened by their housemates. This can help put weight on the former cat, and reduce regurgitation incidents for the gulper. And, of course, messes are kept to a defined, easy to clean area.
These Life Stages folding crates from Midwest work well for most cats, are easy to maintain and won't break the bank. They can even double as emergency travel crates if need be, with no worries the cats will refuse to eat in them.
Raw feeding does have its difficulties, but don't let a runaway diner be the one that puts you off such a beneficial diet. It's easy to address, once you look at it from the cat's point of view!
---
If you enjoyed this post or found it informative, please "Like" it, "Tweet" it, or share it using any of the buttons below. And don't forget to check out our
FB page
, join the discussions in our
awesome FB group
and follow us on
Twitter
!