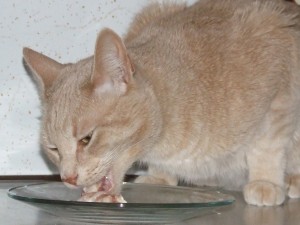 So you've heard of feeding fresh foods to your cat and your interest is piqued, but you're not quite ready to let go of a commercially-prepared diet? That's ok! Adding even a bite or two of fresh, raw meat to your canned-fed kitty's menu (hopefully, you've stopped feeding all kibble by now) is as healthy for her as occasionally eating fresh fruits or a salad is for you.
It's also a great first step in familiarizing your cat with the smell, taste and texture of raw foods. Whether you're buying whole fresh meats from your local grocery store or picking up a commercial ground mix from a specialty pet store doesn't matter. You can offer the meat as a treat in addition to daily meals – in the form of finger-tip-sized chunks of whole meat or bite-sized balls of grind mixes – or you can mix the meat right into your kitty's regular canned food meals.
Your cat doesn't seem to know that bite of chicken is food? Don't be surprised. A 3-year old cat is the equivalent of 28 in human years; 7 = 44; 11= 60. If we'd never eaten a piece of fruit, a vegetable or a bite of salad for 28, 44, or 60 years, we'd be hesitant, too!
Since AAFCO (and FEDIAF) minimum nutrient requirements are 125% of the known minimum vitamin requirements of cats ("Nutrient Requirements of Dogs and Cats"), it's safe to feed up to 15% of the diet as plain raw meat. At 3 meals a day and 21 meals a week, that means you can feed up to 3 whole meals a week of fresh plain meat. Or just swap out her daily treats for fresh pieces of meat.
Note: Always check to ensure the meat you buy hasn't been enhanced, as those spices can wreak havoc on a cat's digestive system. Watch out for taglines like "more flavorful," "juicier," and "enhanced" and check the sodium content; if it exceeds 100 mg per serving, don't put it on your cat's plate.

Why not start offering your kitty some fresh foods today? She may surprise you and pounce on the offer like she's been waiting for it all her life. And you might surprise yourself at how quickly you become comfortable with the concept. Or both!
---