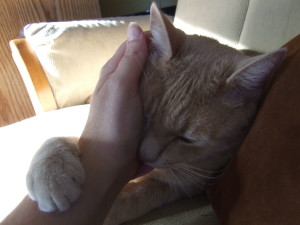 Today is National "Hug Your Cat Day!"
The more fanati… er, dedicated cat owners out there know every day is a "hug your cat" day, but for everyone else, this is a great reminder to take some time out of busy lives to appreciate cats and everything they do for us: the headbutts, the purring, the smiles they provoke with their quirky antics, the quiet companionship at the end of a long day.
In addition to a nice hug (or scritch under the chin, depending upon your cat's tolerance for being squeezed, however gently), this is also a great time for a quick sanity check on Maintaining whole-body health in the indoor cat. Are you doing everything you can to provide a safe, happy, healthy home for your cat? Maybe you've let the daily interactive play slip a bit, or you're still putting off that diet upgrade you've been meaning to do? "Hug Your Cat Day" is the perfect day to recommit to taking the best care you can of your feline friend!
What if you don't have a cat? Never fear! There are shelters all over the world full to bursting with cats who would be delighted to have you spend a half-hour or so with them. And who knows? Maybe you'll find the perfect kitty – or two – to hug every day for the rest of their lives.
So get out there and hug a cat! Show your beloved tabbies how much you appreciate them, or bring a little warmth and love into a shelter cat's life. Or do both! 😉
You can even hug your kitty while enjoying these delightful videos of cats who really, really love their owners and aren't afraid to show it…
---