Today is World Spay / Neuter Day!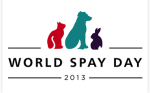 Today is World Spay/Neuter Day. All across America and beyond, a variety of organizations and individuals are sponsoring events and offering discounted and free spay and neuter surgeries. This article on the PRWEB has some interesting information on the history of this initiative, and you can find events in your area on the World Spay Day site.
While there are risks with any surgery – and spays are major surgery – there are more benefits to spaying and neutering our cats than not. Of course, once the organs are removed, the risk of uterine or testicular cancer is eliminated, but female cats will also have a reduced risk of breast cancer (fatal in 90% of cases, according to the ASPCA).
Both sexes will be much less inclined to spray – a huge benefit to owners – and feel a greatly reduced pressure to roam, looking for mates. Females won't suffer the hormonal consequences of periodic heats (I know of one kitty who cried so long and hard during her heats, she reduced her voice to a mere whisper), and males won't be so aggressively seeking fights with each other.
Of course, one of the primary benefits of spaying and neutering our house-cats is preventing the birth of more kittens. In a world already full of lost, abandoned and homeless cats, this is one of the tenets of responsible pet care.
Spaying and neutering is also a vital tool in the management of feral cat colonies. These are the cats you see roaming the streets, shivering under sheds and digging into trash bags; the abandoned and lost who have returned to their feral roots, and those who were born without homes. Simply helping these cats survive by providing food does nothing for their future; rather, it sets them up for eventual starvation as the colony increases beyond the caretaker's ability to handle.
Trap, neuter and return is a critical facet of humanely caring for these cats. And just in time for World Spay/Nueter Day, here is Laurie Goldstein's insightful and informative discussion on this topic, Trap-Neuter-Return (TNR): Effective, Affordable, Humane Community Cat Management. If you are a feral cat caretaker, or are interested in feral cat care, this article is for you!
Happy World Spay / Neuter Day!
---
If you enjoyed this post or found it informative, please "Like" it, "Tweet" it, or share it using any of the buttons below. And don't forget to check out our
FB page
, join the discussions in our
awesome FB group
and follow us on
Twitter
!