Today is Feel Good Friday, where I post recent heart-warming feline reunion, rescue and adoption stories from all over the world. I think closing each month with stories of hope and inspiration is a great way to help us focus on the coming month with optimism and gratitude, don't you?  😉
Joplin, MO, 13 September, from Mousebreath:
"In June, Mousebreath posted the story of one cat mom, a victim of the Joplin tornado, who searched online for her missing cat while she was hospitalized in Kansas with internal injuries sustained when a building collapsed on top of her.
Incredibly, the cherished cat, Freya — a cowcat who moos — was found, and her mom, Desiree, recovered from her injuries."
Click here for the full story.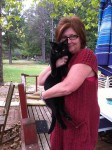 Vilonia, AR, 18 September, from the Log Cabin Democrat:
"One of the smallest Vilonia tornado victims has made it home.
Black Velvet, a solid black tomcat, has been missing from his Vilonia home for nearly five months, since the morning after the April 25 tornado.
A few days ago, … the cat mysteriously appeared perched on a fence rail in their backyard, a place he loved to sit before the storm."
Click here for the full story.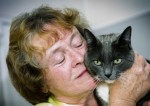 England, 19 September, from the Lancaster Evening Post:
"What do 11 firefighters, two tree surgeons, an animal rescue worker and one distraught pet owner have in common?
Lola the short-haired house cat.
The hapless feline has been reunited with her owner Rosemary Fish in Glenluce Drive, Fishwick, Preston, after being trapped more than 50ft up in a tree for three days in high winds."
Click here for the full story.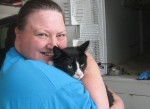 Augurn, WA, 23 September, from theSeattle PI:
""I was absolutely astonished to find Oscar," said Pam McLaren, a King County Regional Animal Services officer, after finding the cat Thursday.
Oscar had failed to return home in 2008, causing his owner, Sherrie Fox, to visit the area's shelter almost daily in search of him. Fox said a neighbor eventually told her that he had found the remains of a black-and-white cat on a road, and she figured Oscar had been killed by a coyote."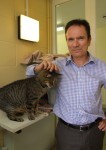 England, 27 September, from the Thame Gazette:
"A family who went to The Blue Cross Lewknor adoption centre, near Thame, to find a new cat were shocked to find the missing moggy they lost six years ago.
Ian Kirkwood was browsing the rescue centre's website searching for a new pet when he came across a familiar face staring out from the screen. He was so struck by the tabby cat's similarity to his lost pet Sar Chi, he compared pictures and discovered the markings looked identical. When he called in the rest of the family they were gobsmacked by the coincidence."
Click here for the full story.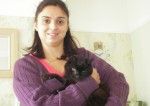 England, 30 September, from The Star:
"A SHEFFIELD cat owner has been reunited with her pet two years after it went missing – thanks to the RSPCA's microchipping scheme.
Sarah D'Rosa's black cat Pepsi disappeared in 2009 while she was living in the Norton area of Sheffield.
Sarah gave up hope of ever finding him.
But the cat was handed in to the RSPCA after falling from a wall and a quick scan of his chip, which Sarah had inserted 10 years ago, identified her as his owner."
Click here for the full story.
And of course, no feline feel-good-story collection would be complete this month without mention of the now-famous Willow.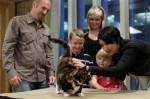 Boulder, CO, 30 September, from MSNBC Today:
"Five years after she went missing from her Colorado home, Willow the cat has been reunited with her owners.
Back together with Willow, whose journey took her from Colorado to New York City, her owners are grateful for the technology that helped them identify their long-lost kitty."
Click here for the full story.
---