CatCentric celebrates an amazing year – and some amazing people!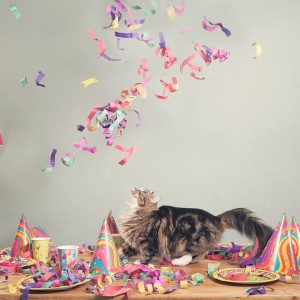 Good morning, CatCentric readers.
Today marks the end of CatCentric's third year. I was going to talk about the amazing progress we've made in expanding our profile (a new Facebook Group with nearly 1,500 members!), reaching more cat owners (100,000 unique readers from 117 countries between this blog and the Facebook Page!) and publishing new content (a new Spanish section!), but, truly, this has been the year of teamwork, and that's what I would like to focus on today.
CatCentric's mission, boiled down to its simplest form, is to improve the lives of cats and strengthen the bond between cats and their owners. We do this primarily through various forms of education: online articles, local seminars and outreach events, answering questions directly and so on. It's a given that people take in information in a multitude of ways and respond differently to different "voices", and so no single individual or organization can effect a population as diverse and large as the global cat owning community. It's going to take all of us (CatCentric.org, CatInfo.org, CatNutrition.org, Feline-Nutrition.org) and more to succeed in creating the kind of paradigm change that needs to happen in the general pet owning population's understanding of feline nutrition and behavior.
And while CatCentric really has made some amazing progress this year (nearly 12,000 Facebook fans!), it wouldn't be where it is if I were doing all this work by myself. This year, I had extensive help from several incredibly generous ladies who volunteered their time and expertise to the Facebook side of things, and to writing articles and blog posts for the site. Other cat owners helped with networking, promoting CatCentric on their Facebook timelines and personal pages. In fact, CatCentric is a multilingual website strictly through the efforts of a couple of volunteers who reached out to me from Spain.
CatCentric has grown far beyond just a simple website and blog, and I've had a lot of help making that happen.
So today, I would like to give special thanks to Carol Dorr, Beth Laubenthal, and Carolina Liima, all of whom have given a lot to further the CatCentric mission, and a very warm and deeply grateful thanks to Laurie Goldstein, who not only helps with… heck, pretty much everything, she is also a dear friend who's affection and support has kept me going even when that going occasionally got rocky as hell. Laurie, I'd be lost without you!
I would also like to thank all of YOU, reading this now. Absolutely none of this work would be worth a single lick of a rough feline tongue if all of you cat owners, guardians and caretakers weren't out there reading and learning and, most importantly, making changes for the better for your cats. Your stories of incredible turnarounds in the health and behavior of your sweet kitties are heartwarming and fiercely joyful. I love getting your emails, even though they often make me cry. Those stories are the very embodiment and consummation of CatCentric's mission!
And speaking of grateful tears, I'd like to share with you a video my wonderful team of volunteers put together to help celebrate this anniversary. I had no idea they were making this, and I am deeply touched by it.
Thank you again, Beth, Laurie, Carol and Carolina!
– – – – – – – – – – – – – –
Now for the interactive, fun part of our celebration… the party and the promotion!
The Party!
CatCentric's Third Anniversary Party is being hosted by the Facebook CatCentric Group. Join the group to attend the event and post pictures of your adorable kitties, share their stories, and tell us how CatCentric has made a difference in their lives, or how these amazing creatures have made a difference in yours. Most of the CatCentric team will be involved with this party throughout the day, so this is a great time for all of us to get to know one another better.
Added just to clarify: You will need to join the CatCentric Group (just for the day if you want) to attend the Party, since the Group is hosting it.
The One-Day Promotion!
Until now, CatCentric has grown pretty much organically. Today, however, for 24 hours, I'm asking for your assistance in reaching other cat owners. If you have been helped by any of our articles or enjoyed any of our pics and stories, please:
On this site: Subscribe to the blog! (See the "Subscribe to CatCentric" widget in the right menu bar.)
On Twitter: Follow @CatCentric and tweet #CelebrateCatCentric2014
On Facebook: Like CatCentric and post #CelebrateCatCentric2014
On Google+: Follow CatCentric!
AND, please post, share and tweet the CatCentric website and media profiles to your friends, family and colleagues and ask them to subscribe, like, follow and share as well, not just on Facebook, Twitter and Google+, but on Reddit, Tumblr, Instagram, Pinterest and so on. We need your help to hit our celebratory goals, and if each of you brings in just one website subscriber, Facebook fan and Twitter follower each, we can do it!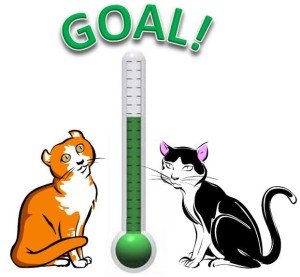 Here are our goals!!!!
Blog Subscribers: 5,000
Facebook Fans: 20,000
Twitter Followers: 5,000
Google+ Followers (new goal): 1,000
Help us celebrate our anniversary, and go crazy posting, sharing and tweeting! (I will tweet updates on our numbers throughout the day.)
Let's make this "hump day" an awesomely fun day!! 🙂
#CelebrateCatCentric2014 Tweets

---
If you enjoyed this post or found it informative, please "Like" it, "Tweet" it, or share it using any of the buttons below. And don't forget to check out our
FB page
, join the discussions in our
awesome FB group
and follow us on
Twitter
!