SURPRISE, TRACY!
Laurie here. The cat's out of the bag early, but we can't help that. On October 1st, we celebrate CatCentric.org's third anniversary! And we want all of you to join us!
CatCentric has become far more than a "just" a blog and website (chock full of so many resources for everything cat!), it is now the leading international community of its kind, reaching over 100,000 people every month. The associated Facebook page recently passed 10,000 followers, and the Facebook group isn't far from 1,500 members.
WOW!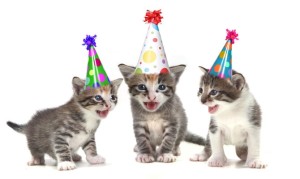 Way to go, Tracy!
On the website, we can't interact with you real time. But the contributing writers of the website and the administrators of the Facebook page and group are throwing Tracy Dion, CatCentric's founder, a party to celebrate.
JOIN US!
Bring pictures of your kitties, your party hats, and join the CatCentric Facebook group event, "CatCentric's Third Anniversary Party!" being held October 1st! We're helping people all across the globe improve both the bond with their kitty(ies) and their cats' health by looking at the world from our kitties' perspective – and that's what we're all about. That is worth celebrating!
---
If you enjoyed this post or found it informative, please "Like" it, "Tweet" it, or share it using any of the buttons below. And don't forget to check out our
FB page
, join the discussions in our
awesome FB group
and follow us on
Twitter
!